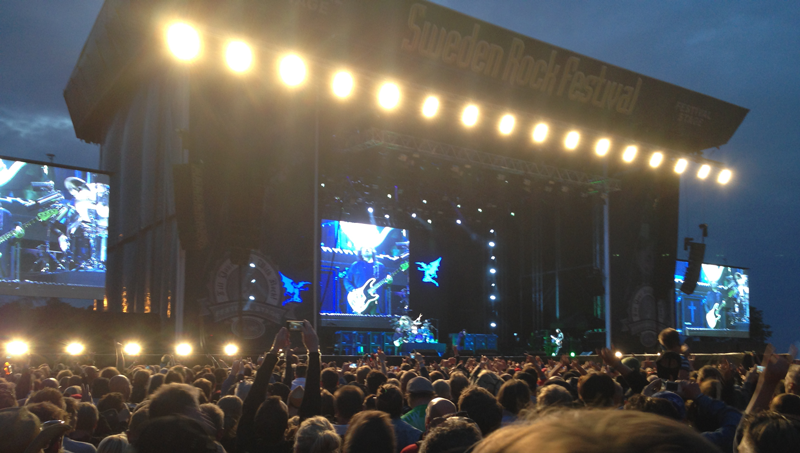 There was a slight worry in advance that this years line-up at Sweden Rock Festival was a little weak compared to recent years. However, at this point, after so many years – it seems the line-up is not what it's all about anymore – it's the event itself that is the reason why so many people come back year after year and sell the place out! And, who can really complain when the mother of all hard rock bands, Black Sabbath, was on the bill? It was my 10th year in a row at Sweden Rock representing EBS. Looking back, it's been a great ride and both the festival, and our engagement has developed over the years and become a smooth working engine with just slight adjustments of improvements each year. Over all these years, we've manage to build something around EBS that we lack before, and it proves consistent work pay off. Today, and a lot due to Sweden Rock Festival, EBS is a widely known and respected brand within the rock and metal community.
More than 50 bands on EBS amps This year had 88 bands playing on 5 different stages, where 3 had EBS bass amps as part of the standard backline offered to the bands. Out of some 60 bands on these three stages, most of them took the offer and had EBS powering the bass, which means around 50 bands in total took the chance to play EBS Professional Bass Equipment! Sweden Stage had TD660 amps and ProLine 810 cabinets, 4Sound Stage had EBS Classic 500 amps and ClassicLine 810 cabinets, while the Rockklassiker Stage had a NeoLine 810 cabinet and a TD and a Classic amp. We spotted a lot of EBS pedals here and there on various bands pedalboards as well. Quite a few had the EBS Billy Sheehan Signature Drive and/or the MultiComp. Over these 10 years, there has only been one EBS amp failure, and that was due to a user related fault, and happened on sound check – this year went 100% smooth which proves the high reliability of EBS gear!
EBS Artists at the show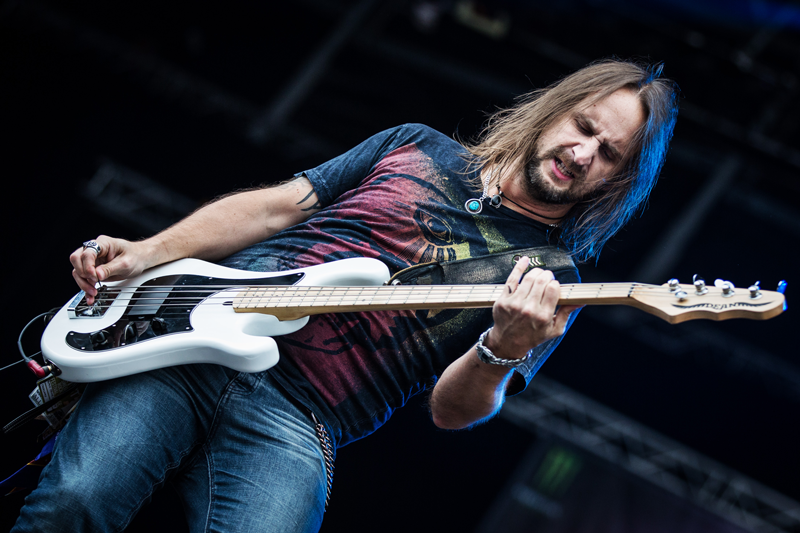 It's so great to meet up with our artists on the field, and get to hear what they're doing, and make sure everything is on track. This year we had the new hyped Swedish band BOMBUS delivering an uncompromising high-octane rock gig powered by two EBS Classic 500 amps and ClassicLine 810 cabs. We also got to hang out with Jon Lawhon from BLACK STONE CHERRY, and extend his pedal board with the EBS FuzzMo, which he loved from the first moment he tried it. Jon has been endorsing EBS pedals for a few years now and the band played a great set on the main stage. EBS Artist Anders Iwers (older brother to
Peter Iwers of In Flames), filled in with AVATARIUM and did one of the most talked about gigs at the festival. Impressive and original 'doom-folk-rock-metal' with female vocals. He brought all his EBS pedals in his EBS CarryOn bag, and hooked them up through two Classic 500 heads with ClassicLine 810 cabs – and after just some slight eq adjustments, it sounded incredibly good! TALISMAN re-united for a very emotional gig in memory of their bass player, and former EBS Artist Marcel Jacob, who sadly passed away a few years ago. Marcel was one of the most talented Swedish rock bass players of all times, and is greatly missed. Another EBS Artist, Johan Niemann, did a great job to fill his shoes and pay tribute to 'Marre' together with a massive crowd in front of the second stage.
Headliners and thoughts Black Sabbath, Alice Cooper, Volbeat and Queensryche headlined the four days of classic rock, but apart from Black Sabbath – the biggest crowd probably got together in broad daylight to see Electric Banana Band a band created for a Children's TV-show in the late 70's/early 80's with very little to do with classic rock. That may be the final evidence this festival has become greater than the bands playing there, and the reason the festival see continuous success even though the competition has been raised several bars the last few years and causing the 'festival-death' to many others. However, to continue the success – the music has to come first, so we'll expect a strong comeback with outstanding artist bookings next year! Picture slide show from Sweden Rock Festival 2014:
Big hand to the Sweden Rock Festival crew, especially Pelle Åberg and Urban Näsvall, Backline Stockholm, DM Audio, our friends at True Temperament, all bands that dared to play EBS for the first time, all the great EBS artists that we have the privilege to work together with, our outstanding photographer Daniel Falk, and finally and not least all the people coming back year after year and make the event such a great party! / Ralf and the EBS Team. This story was brought to you by EBS Professional Bass Equipment. www.ebssweden.com