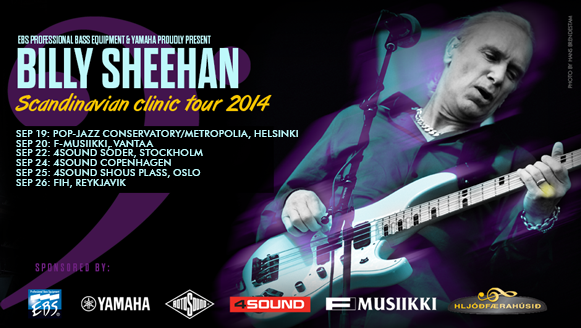 EBS Sweden AB & Yamaha Scandinavia are happy to present the BILLY SHEEHAN SCANDINAVIAN CLINIC TOUR in September! 
September 19: Pop-Jazz Conservatory/Metropolia, Helsinki. Time: 13:00
September 20: F-Musiikki, Vantaa. Time: 12:00 (noon)
September 22: 4Sound Söder, Stockholm. Time: 19:00 (doors:18:30)
September 24: 4Sound, Copenhagen. Time: 17:30 (doors: 17:00)
September 25: 4Sound Schous Plass, Oslo. Time: 20:00 (doors: 19:30)
September 26: VENUE CHANGE! Hljodfaerahusid, Sidumuli 20, 108 Reykjavik. Time: 20:00
Free entrance.
In addition to the clinics, Billy will do a MasterClass for Rytmus students exclusively in Stockholm on September 23. Check www.rytmus.se for details.
The clinic tour is made possible with support from 4Sound (MRH), F-Musiikki, Hljodfaerahusid and Rotosound.
This post was brought to you by www.ebssweden.com
—————————
About Billy Sheehan:
Billy Sheehan has played bass on dozens of records and toured all over the world for many decades. His unique and original style of playing has been celebrated and documented everywhere. His playing, singing, songwriting, and contributions to his many recordings have resulted in millions of records sold, Platinum and Gold status worldwide, Reader's Poll Awards too many to list, Number #1 hits, Number #1 Video's, sold-out shows, and most importantly the mutual love, friendship and respect between himself and many millions of fans around the globe.
Starting in his hometown of Buffalo, NY in the early '70's with the now legendary hard rock trio Talas, he went on to join David Lee Roth in the summer of '85 when Dave quit Van Halen to go out on his own. Along with Steve Vai& Gregg Bissonette, the legendary Eat 'Em and Smile record and tour went on to platinum status and sold out shows everywhere. Leaving in 1987 to start his own new band, he founded Mr. Big, who went on to achieve a number one hit in fourteen countries, staying number 1 in the USA Billboard charts for 3 solid weeks. Along with Mr Big members Eric Martin, Paul Gilbert and Pat Torpey, they recorded and toured the world for a decade more, till disbanding in 2002. During that time he found time to start "Niacin" a fusion/blues trio based around the Hammond B3 sound that featured drummer Dennis Chambers. He rejoined his old bandmate Steve Vai for several tours as well as Steve's "Real Illusions" record and tour. After he released several solo records and much more, Mr Big reunited in 2009 and performed a sold-out world tour, and then recorded "What If…" in 2011 — to rave reviews and another sold-out world tour.
Most recently Billy joined Mike Portnoy and Richie Kotzen to form ":The Winery Dogs". Their first release in July of 2013 entered the BillBoard Top 200 Albums at #27 — and has been received everywhere with spectacular reviews and sold-out shows.
Fall of 2014 sees the release of the new Mr Big album "The Stories We Could Tell" followed by a world tour.
With his history of live performances and/or recordings with Talas, UFO, David Lee Roth, Mr. Big, Niacin, Steve Vai and now The Winery Dogs, he has had a huge and undeniable influence on modern bass playing that has spread all over the globe, and will continue for many years to come.
——————-
Om Billy Sheehan:
Billy Sheehan har spelat bas på mängder med inspelningar och turnerat flitigt över hela världen under flera decennier. Hans unika spelstil och sound har influerat generationer av basister – inte minst inom metal och hårdrock. Som musiker, men även som sångare och låtskrivare, har han bidragit till flertalet skivor som sålt både Platina och Guld och innehållit listettor i många länder, inte minst med Mr.Big. Genom åren har Billy även blivit känd som en sympatisk och öppen person med stort engagemang för sina fans – vilket gjort honom till en mycket uppskattad clinic-artist på bas och oräkneliga topp placeringar i diverse läsaromröstningar.
Billy startade sin karriär i början av 70-talet i bandet Talas, som nått legendarisk status främst i hemlandet USA. Det stora internationella genombrottet fick han 1985 då han anslöt till Van Halen-sångaren David Lee Roth's nystartade soloprojekt, där han bildade band tillsammans med Steve Vai och trummisen Gregg Bissonette. Plattan "Eat 'Em and Smile" sålde Platina och gav listplaceringar över hela världen. Framgångarna beredde vägen för grundandet av Mr.Big 1987, där Billy haft en framträdande roll allt sedan dess. Mr.Big har haft listettor i 14 länder, och bland annat toppat amerikanska Billboard Album listan flera veckor i följd. Parallellt med Mr Big, och under de längre uppehåll bandet haft genom åren har Billy ständigt varit aktiv, bl.a. genom flera plattor med fusion trion Niacin (med trummisen Dennis Chambers), och med turnéer och inspelningar med gamla Lee Roth-kollegan Steve Vai.
Den senaste tiden har Billy Sheehan rönt stora framgångar med sitt nya band The Winery Dogs – en power trio med Billy, Richie Kotzen och fd Dream Theater trummisen Mike Portnoy. Bandets hyllade debutalbum gav dem plats 27 på Billboard-listan, och de har spelat för fulla hus runt om i världen.
Nära förestående efter clinic turnén i Skandinavien kommer Mr Big släppa ett nytt album som heter "The Stories We Could Tell" – som följs av en världsomspännande turné.