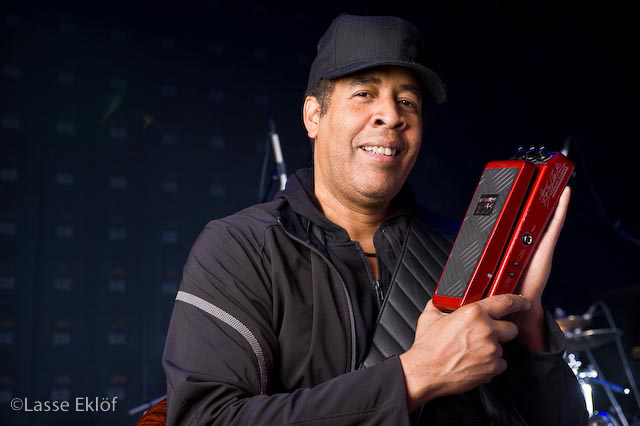 STANLEY CLARKE WAS THE FIRST ARTIST HONORED WITH A SIGNATURE MODEL FROM EBS, THE STANLEY CLARKE SIGNATURE WAH/TONE FILTER. IN THIS INTERVIEW, HE SHARES SOME BASS WISDOM ON HOW TO DEVELOP YOUR TONE, AND REVEALS THE UNTOLD SECRETS ABOUT HIS PEDAL, TO CELEBRATE ITS FIFTH YEAR ON THE MARKET!
INTERVIEW BY RALF BJURBO
Mr. Stanley Clarke, you are one of the true Titans of the electric and upright bass in modern time, and a pioneer using the electric bass as a solo instrument. It would take a whole biography to sum up your extraordinary and successful career, but if you would pick just a few highlights that you personally consider being the most life-changing or important in a special way — musically and/or emotionally, what would those be?
"First, it probably would have been playing with legendary sax player Joe Henderson. It was through Joe that I met Lenny White, who became a constant in my career over the past 40 or so years, whether as a performer with Return To Forever, a collaborator, a producer on some of my CDs and, of course, a friend."

"Second, it was meeting and joining with Chick Corea in forming Return To Forever. It was great being able to spearhead a movement. That movement was jazz-rock, jazz-fusion or just fusion…whatever one wants to call it."

"Third, it was my start in film composing and its evolution into movies like Boyz'n'the Hood. That particular film not only ushered in a new genre in movie themes. As a film composer, it was one of the first to incorporate a score mixing both orchestral and hip hop music. Overall, I've scored more than 65 films and television shows, including The Transporter, Romeo Must Die, and What's Love Got To Do With It. I just finished the score for Malcolm Lee's Best Man's Holiday which will be released in mid-November 2013."
History leads us to present time, and with your latest solo album being recognized with a Grammy Award, you are no doubt still performing music at the very top level, not resting on laurels past. What does your most recent work include, and what is there to look forward to in the near future from Stanley Clarke?
"I'm working on a new CD and I'm pretty enthused about it. It's going to encompass all the different things that encompass my career as a bassist and musician, including an emphasis on composing. It will be a step-up in growth in playing as well."
Editors note: Visit http://stanleyclarke.com/ for the latest updates from Stanley Clarke.
Being a musician with a more than 40 year long and continuously successful career — where do you get the inspiration and drive to continue developing and creating great music? By listening to other musicians or maybe from something complete different?
"I feel the inspiration and drive come from how you grow up—your family, the values they teach, their work ethic, their musical exposure—all these things influence you as an adult and carry on throughout one's life."

"As a kid I was blessed with all these things. I was shown a love for many types of music, lessons in discipline and commitment to practicing, being on time, always striving for the best. I chose music early on and that drive and inspiration and those values have never waned."
What do you think of the current music scene and are there any new artists that you find especially interesting today?
"Of course things have changed substantially in the music scene and it seems like it is mostly directed by the 'business' of music. The talent is certainly there, but it's more difficult to be original than it used to be."

"Especially, it's more for that original to be picked up by the mainstream. I'm not sure there would be a Jimi Hendrix or Janis Joplin today, because few in the industry are willing to take risks like in the Sixties, Seventies and Eighties."

"All these things go in phases, though. Something unique in their time like The Beatles, Elvis or Dylan in the Sixties will come along, the audience will be there and a new phase will begin."
Like all legendary bass players, you have always had a signature tone, something that is hard to put the finger on but instantly reveals who is playing. Is it possible to describe in words how you have developed your tone, or does it just comes naturally?
"Tone develops over time and is unique to who you are. It develops from practicing and playing and the uniqueness comes from the fact that no one else is doing it or can do it. I don't think anyone can calculate a tone they want to accomplish, it comes from playing… a LOT!"

"I always tell young players: Go ahead and emulate another person's style or tone—then forget about it. I've always felt that personal style is better when kept simple."
Although most comes from the heart, soul and fingers, has musical equipment any importance? And are there any pieces of gear that you find extra important for creating your tone — or maybe better described — represent the tone you create and want to achieve but in an amplified way?
"The equipment I tend to use gets simpler and simpler as time passes. My amps and EBS pedals are pretty much it."
When EBS and Stanley Clarke joined forces and released a Signature Wah pedal in 2009, a common reaction seemed to be: "Stanley Clarke? Wah pedal?" The bass player's community did not really connect the wah-wah type of effect as significant for the Stanley Clarke sound. But, as I understand it, although physically being a wah pedal (and possible to use as one); your idea was to use it simply as a tone filter? Can you elaborate on that?
"My primary use of it is as a tonal control. It does looks like a wah pedal, though. I felt that a foot on a pedal would be an easier way to select frequencies than with the hand. You can use it without any hesitation in play. It works!"
What are the advantages of using the Stanley Clarke Signature Wah as a tone filter for a bass player who is inspired by your tone, but maybe not being able to afford an Alembic bass?
"The advantage of the Alembic bass is that it has multiple tones/frequencies built in. For those guitars that don't have that advantage, the Wah Pedal is an even greater asset. Players can pull tones from the pedal that are not built into the guitar."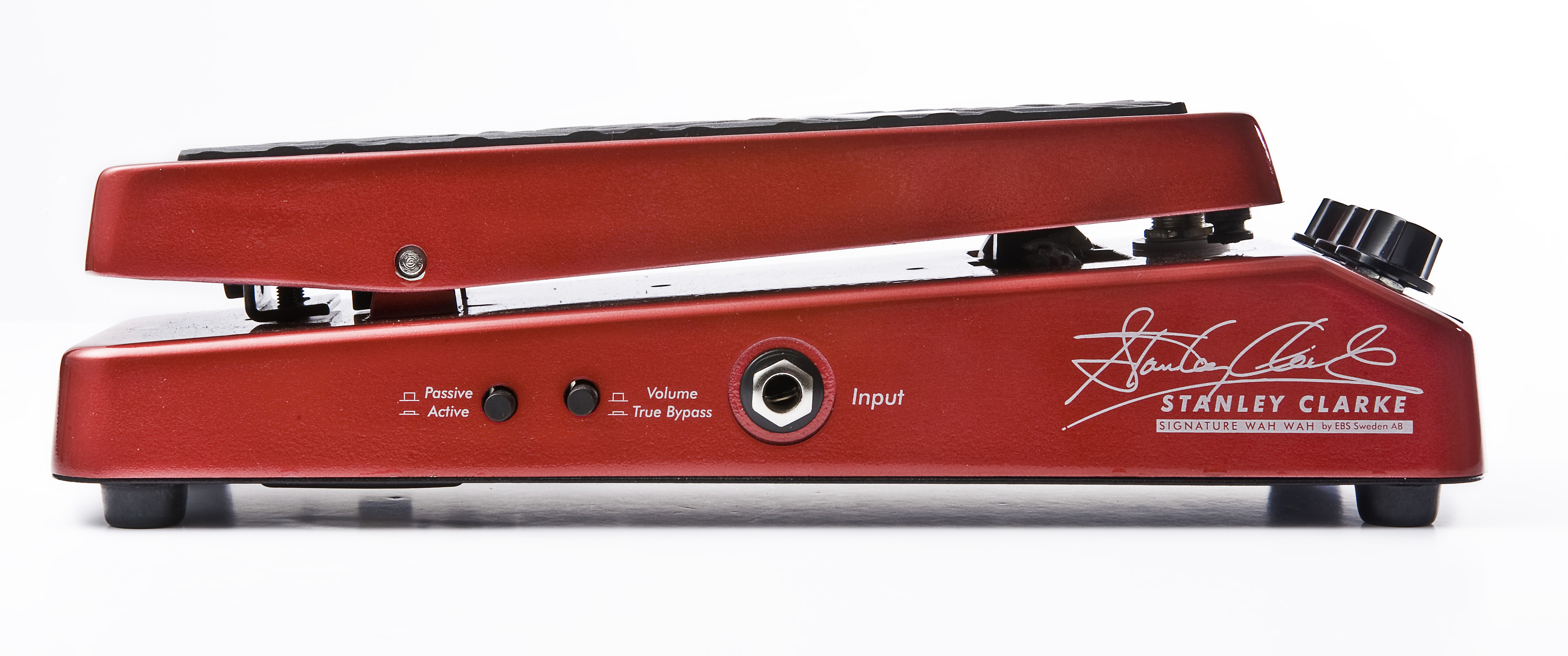 Your history with EBS did not start with a wah pedal. Do you currently use any other equipment from the company?
"In addition to the Wah Pedal, I use an EBS Micro Bass II preamp for my acoustic bass. For the last few years I've been going back to my roots on the acoustic. Much of my performance these days is on acoustic."
Finally, any good advice to the young aspiring musicians out there on how to develop their own signature tone?
"I would suggest that when selecting an instrument, they find a bass that has the most possible fluctuation of frequencies to play with. This allows the most flexibility in the road to developing one's own tone."
This interview was originally published in the printed EBS MAGAZINE 2014, released at the NAMM SHOW 2014 and distributed at trade shows and various dealers around the world all year. 
This story was brought to you by EBS Sweden AB. Take me to www.ebssweden.com