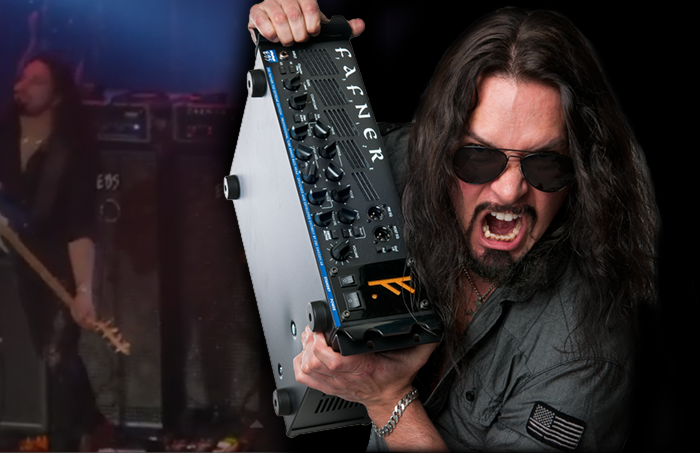 An amazing line-up was presented to perform in support of the Ronnie James Dio Stand Up And Shout Cancer Fund at the Avalon in Hollywood on March 17. 
With an impressive line-up featuring Corey Taylor and his friends from Stonesour, Duff McKeagan, Michael Orlando, Scott Ian, Halestorm and many more, and the personal engagement of Ronnies wife Wendy Dio, this was surely a night to remember.  And a night that gathered big contributions to the important work to find and improve Cancer treatment.
The show of course also included EBS Artist Bjorn Englen with the DIO DISCIPLES – the band formed in honor of Ronnie James with members from his original band. Thanks to Bjorn, and with the help from our friends at Centerstaging, we where able and honored to supply a couple EBS rigs for the event.
We encourage everyone to follow the link below and make donations to support the important work of the diocancerfund.org, co-founded by Wendy Dio.
At the event, Judas Priest frontman Rob Halford was presented with the "Man Of The Silver Mountain Award" and the night also offered a pre-listening of the coming up Ronnie James Dio Tribute album 'This is Your Life', that will be released on April 1. All sales of the album will contribute to the fund, naturally.
"This Is Your Life" track listing:
01. "Neon Knights" – ANTHRAX *
02. "The Last In Line" – TENACIOUS D *
03. "The Mob Rules" – ADRENALINE MOB
04. "Rainbow In The Dark" – Corey Taylor, Roy Mayorga, Satchel, Christian Martucci, Jason Christopher *
05. "Straight Through The Heart" – HALESTORM *
06. "Starstruck" – MOTÖRHEAD with Biff Byford *
07. "Temple Of The King" – SCORPIONS *
08. "Egypt (The Chains Are On)" – DORO
09. "Holy Diver" – KILLSWITCH ENGAGE
10. "Catch The Rainbow" – Glenn Hughes, Simon Wright, Craig Goldy, Rudy Sarzo, Scott Warren *
11. "I" – Oni Logan, Jimmy Bain, Rowan Robertson, Brian Tichy *
12. "Man On The Silver Mountain" – Rob Halford, Vinny Appice, Doug Aldrich, Jeff Pilson, Scott Warren *
13. "Ronnie Rising Medley" (featuring "A Light In The Black", "Tarot Woman", "Stargazer", "Kill The King") – METALLICA *
14. "This Is Your Life" – DIO
* Previously unreleased
Here are some videos captured from the night:
Bjorn with Tim Ripper Owens, the Dio Disciples and more:
[youtube:http://youtu.be/LjbgZ1jlW3w]
Corey Taylor, Duff McKeagan and Scott Ian:
[youtube:http://youtu.be/QoQLgjkBRNY]
StoneSour (almost) with Scott Ian:
[youtube:http://youtu.be/3Pz1cDzAUs8]
This story was brought to you by EBS Sweden AB. Take me to www.ebssweden.com