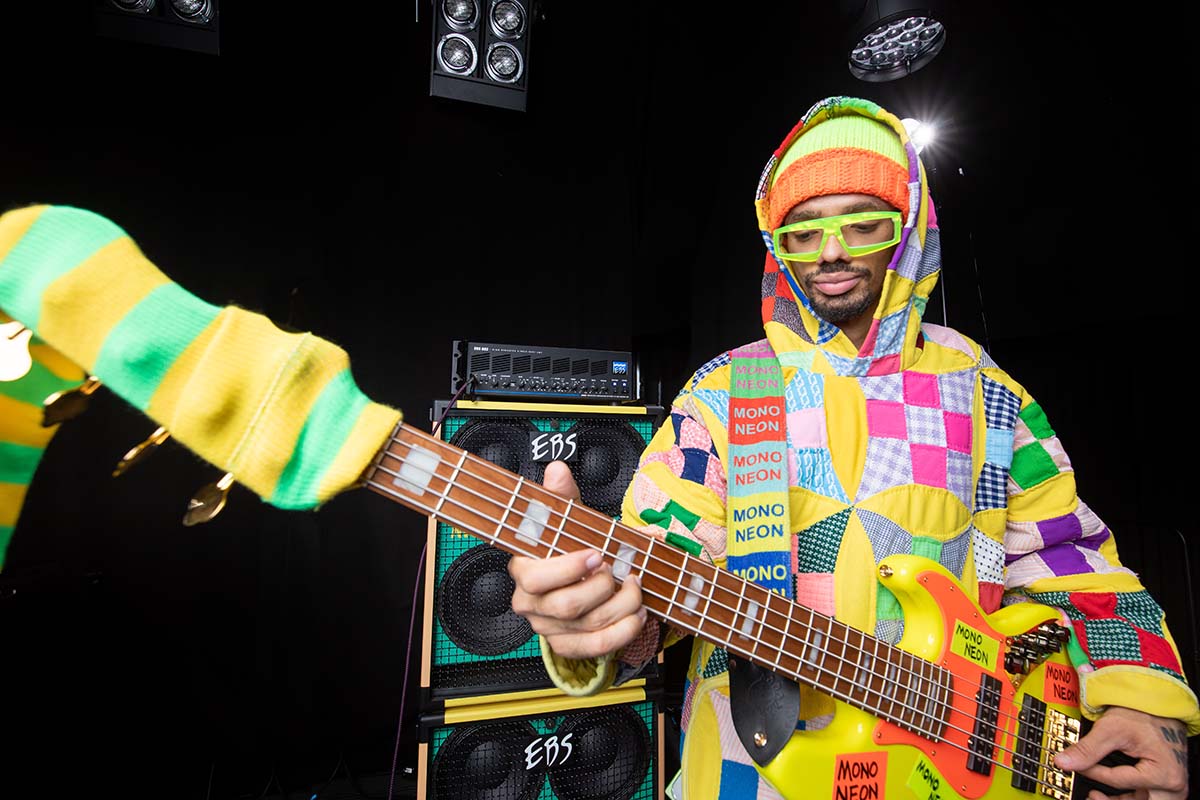 If you went to a Ghost-Note gig on their recent US tour or saw them in Stockholm in October, you may have noticed MonoNeon got a specially designed EBS bass rig behind his back. In this article, you will learn about how this came to be and what it is all about.
---

The first time we met Dywane Thomas Jr. was at the NAMM Show 2008, long before he had developed his colorful persona known as MonoNeon. He came along with his longtime friend, the Memphis-based, awarded EBS ambassador and artist Jackie Clark. 
His style and technique were unique already then, and his talent unmistakable. We offered some support during these early years while he was still in school and followed his development closely. Each time we saw him, he did new things with the bass guitar that nobody had done before. 



But, it wasn't until he developed the MonoNeon character that he started to reach a wider audience, especially when making weird but incredibly musical interpretations of the melody of people's voices with his bass in videos that went viral across the internet. 
Somehow Prince discovered Mono through his videos, and they started collaborating. Meeting Prince certainly inspired MonoNeon to take his career to the next level. Today, MonoNeon is the bass player with the funk 'all-star' collective, Ghost-Note. Last year he worked with NAS on his Grammy Award-winning album, Kings's Disease, and has released several independent albums as a solo artist, leading to consideration for two Grammy nominations in 2022! Which only briefly summarises his recent whereabouts. 
It's been amazing to follow Dywane on his journey from super talented to an emerging bass superstar with a successful career going on. 

The idea of making custom colored cabinets was born when visiting a printing outlet and watching a process they used to coat other things, which sparked the idea to try to implement it on a bass cabinet. 
By coincidence, Tal Wilkenfeld and Mono Neon had been hanging out at some event, and Tal suggested that; "EBS should make you a rig matching your colors." They both loved the idea. When Tal then mentioned it to us later, it all fell into place.
We got the perfect project to explore how we could apply this technique on a cabinet while developing our support to MonoNeon, which we had wanted to do for some time anyhow by supplying dedicated gear for his touring needs in Ghost-Note.
It's been a fun project, and we'd like to thank both Tal for initiating the idea, Jackie, who brought Dywane and EBS together in the first place, Nate Werth, and the Ghost-Note crew for helping organize everything.  


---
About the cabinets:
MonoNeon's custom-colored cabinets are standard EBS ProLine 410 cabinets but with a different coating and black woven steel grills. The technique allows for using any color or printed pattern and, as far as we know, has not been used in the music instrument business before. The material is more resistant to scratches than traditional vinyl coating. 
At this point, we will not offer custom colored cabinets as a commercial product but are open to collaborating with artists that may need a bass rig to blend in with their stage design. We are still working on some details to improve the method to perfection. If we reach that point and see a massive demand, we may consider opening for custom orders from regular customers in the future. 

---

MonoNeon's current rig with Ghost-Note includes 2x EBS ProLine 410 cabinets in his custom finish with EBS 802 amplifiers.