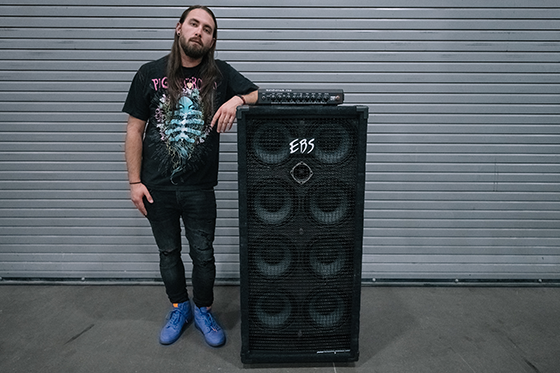 Bad Wolves was formed last year by ex-members of several other famous metal bands on the US scene. Including bass player Kyle Konkiel (ex-In This Moment, ex-Scar The Martyr, Vimic).
Bad Wolves hit #1 on the US Billboard Mainstream Rock chart with their third single, a cover of The Cranberries song "Zombie". The Cranberries singer Dolores O'Riordan was supposed to sing on it but sadly passed away before the recording.
Bad Wolves debut album, Disobey, reached top 10 on the US Billboard Rock chart as well as in Australia and New Zealand.
Kyle got onboard with EBS in the middle of Bad Wolves current tour along with Five Finger Death Punch & Breaking Benjamin this summer. The band will continue touring consistently throughout the year in both North America and Europe.
For dates and tickets, visit: https://badwolvesnation.com/pages/tour
Kyle's current rig include EBS Reidmar 750 amps, NeoLine 810 cabinets and EBS MultiComp SE and OctaBass pedals.
Photo by Randy Edwards (@randyedwardsphotos on Instagram).