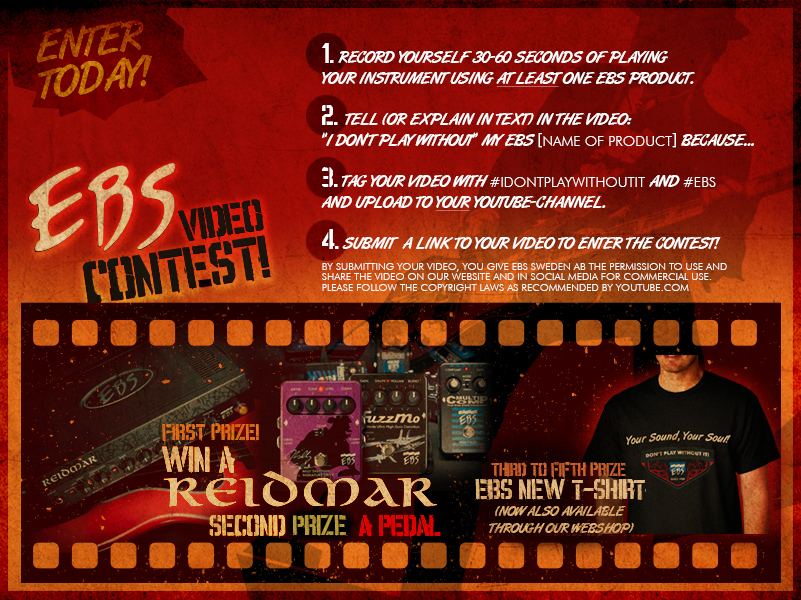 Do you own any EBS equipment? Do you have a Youtube-account and a simple video recording device? Then join the EBS Video Challenge where you can win an EBS Reidmar amp, an EBS pedal of choice or an EBS T-shirt!
Here's a step-by-step instruction what to follow to take part in the race:
Record yourself playing 30-60 seconds of music
(must include at least one EBS product).
Tell the viewers why you can't be without your EBS product.
Upload it to your Youtube-channel and tag the video
with #idontplaywithoutit and #ebs
Submit the link to the EBS Video Challenge here.
Who wins?
We will pick the winners based on these criterias, best performance, most engaged performance, most innovative way of using your EBS equipment (in a way that sounds cool).
The jury might consider the amount of votes you get, but it will not automatically generate a win, so make sure you get all friends check out your video and vote on it!
To give you a hint, here's a little example on how it can be done from EBS Artist Jay-Tee Teterissa:
[youtube:http://youtu.be/e2mzJXieoP0]
The contest will run until November 15, 2014. Winners announced shortly after!
Check out all entries so far here: http://woobox.com/ozexz7/vote
This story was brought to you by www.ebssweden.com