Friday at NAMM had a couple surprises to offer. One big one was Marcus Miller showing up at the booth, spending time with EBS and fans. A great day at the show!
Day 2 at NAMM was a real treat! Starting off with Tommy Brown and guitarist Francisco Diaz doing demo playing at the booth. Then Marcus Miller came along for a visit, sharing quite a lot of time with the fast building crowd – both playing, taking pictures and talking with fans. What a great surprise!
Next up was Billy Sheehan that had an impressive line of people getting him signing stuff. Billy's been a great ambassador for EBS since the collaboration on his signature pedal started and its such an honor and pleasure to work with someone like him – totally professional and in any sense great!
Finishing off the day was Neon Trees bass player and EBS Pedal Artist Branden Campbell. Branden is another great example of a humble and to-the-core awesome guy. His signing was the first with EBS and he spent time talking to each one of the fans coming by. Check out their new single and coming up album!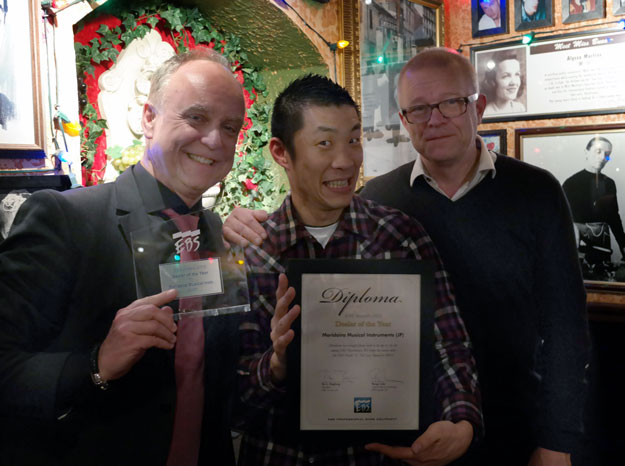 At the end of the day, we provided a rig for Marcus Miller before gathering with friends, distributors and artists for the Annual EBS Dinner! At the dinner we presented Moridaira, our Japanese distributor with the Dealer Of The Year Award, while Music Olar, Switzerland, got the Best Service & Support Award. We also honored Billy Sheehan for Best EBS Ambassador in 2013.
At the same time at another place around NAMM there was the Tsunami Cables Party going on, powered by EBS. These guys are really good people and make super quality instrument cables!
Photos from Day 2:
You will be able to follow the NAMM Show on our daily blog from NAMM!
Just surf in on www.ebssweden.com between January 23-26 for daily reports from the show!
SEE YOU AT THE SHOW OR CONNECT THROUGH THE BLOG / The EBS Team