AT NAMM 2013, EBS AND BILLY SHEEHAN RELEASED THE BILLY SHEEHAN SIGNATURE DRIVE, A SIGNAL PROCESSING DEVICE OFFERING THE POSSIBILITY TO ACHIEVE THE SOUND OF A LEGEND! HERE'S AN INTERVIEW WE MADE FOR THE EBS 25 YEARS MAGAZINE WITH BILLY ABOUT THE PEDAL.
Text & Photo by Ralf Bjurbo.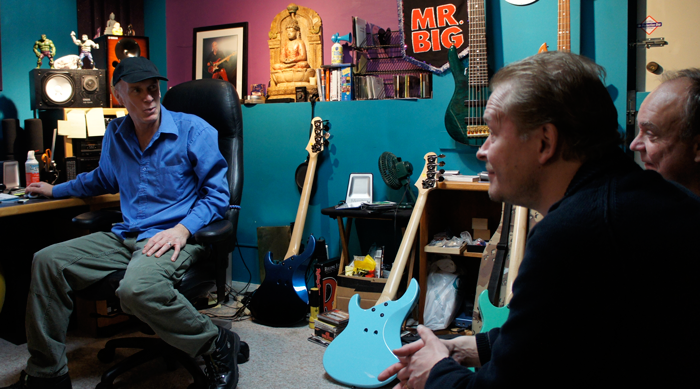 A couple of years ago, you contacted us letting us know you'd be interested in making a special effect together with us. How come you choose EBS as a partner to develop this product?
–I've tried several other EBS pedals and I love the sound and quality control. From my observation, EBS seek to innovate and not copy. All the company's products reflect this. So, I thought they'd be perfect to do a pedal that is somewhat non-traditional, yet useful for many things.
Can you roughly describe the idea behind it, and what you hope it will add for yourself as well as what it offers to other bass players?
–I have been involved in sound design for bass since 1971. I may have been the first bass player with rack-mount pro-audio components as an amplifier on stage. Not sure, but maybe! Regardless – my goal then was to be able to create a perfect bass tone for myself. Some of the ideas that went into that concept turned out to be useful not only for myself, but for anyone who is amplifying an instrument. I've had very many custom design preamps and other components made for me from scratch through the years, so I'm very familiar with the process involved in taking something from concept to performance – sometimes a long and difficult transition.
This pedal is a distillate of several important principles in the signal chain for bass. Distorting a bass is always tricky. You can easily lose note to note differentiation, as well as low frequencies. My solution for many decades has been to run two signals, distort one, and re-combine, mix after. We managed to get this capability into a pedal with EBS. It does all that, plus it allows an unlimited possibility for pre-post mix tone shaping by including a loop for each signal path. The user can insert anything they wish within the loop for unique and personally stylized tonality. The pedal by itself sounds absolutely wonderful, but the feature of being modified by the user's choice of insert components makes it useful for anyone playing any style.
As I understand it, your tone is basically achieved by the combination of heavy distortion, stressing the midrange to the extreme at certain frequencies and adding compression to keep the definition of tone through the distortion and blend with a clean signal. Can you do all this with the Billy Sheehan Signature Drive?
–Yes! It includes everything necessary for that within itself. Compression, distortion, tone-shaping and blending all together.
It has a special feature since both the input (clean loop) and the output (drive loop) has an effects loop added to it. What is the intention of having this option, and can you explain how it works?
–As above, this gives the option of adding whatever the user would like within either or both of the individual signal chains. Some extra compression on the clean channel? No problem. A parametric EQ on the distortion channel? Likewise. This allows the player to fine tune the pedal to their own personal liking. It works perfectly.
For yourself, what are your current plans for 2013 that you'll like to share with the readers?
–Busy times! A new Niacin CD entitled "Krush" is coming, with Dennis Chambers on drums, and a new band I'm beginning with Mike Portnoy and Richie Kotzen that I'm very excited about! – and a dozen other things. I'll be taking my new EBS around the world this year. Can't wait!
Note: More info and samples will soon be found at www.ebssweden.com
Stay tuned for next NAMM feature to appear soon!