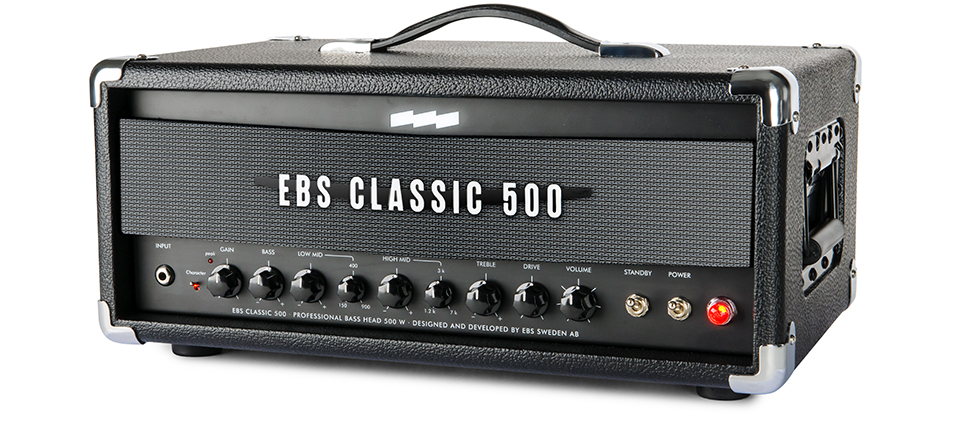 General
Specs
 Demos & Samples 
Downloads 
Reviews
Photos
General
THE EBS CLASSIC 500 IS THE NATURAL EVOLUTION OF THE PREVIOUS CLASSIC 450 BASS HEAD. THE EXTRA POWER, AND THE NEW COMPACT CASING THAT FITS PERFECTLY ON A CLASSIC LINE 112 CABINET BRING FLEXIBILITY AND PORTABILITY TO THE TABLE. THIS IS A VERY CAPABLE BASS HEAD WITH A STUNNING LOOK.
---
Vintage tone. The new EBS Classic 500 retro-styled bass amp is as close you will get to a classic tube amp sound with any solid state bass head. The musical boosted Drive control and the exceptional control offered by the dual midrange section makes it easy to dial in any type of vintage (or modern) bass sound. The plenty of power offered from the new power amp makes the Classic 500 an amazingly versatile bass amp with a beautiful tone. Transparent to the character of your bass – in true EBS tradition!
The thoughtfully designed EQ puts you firmly in the driving seat adding everything from subtle, vintage overdrive to a mean driving distortion, whilst maintaining a beautiful low rounded bottom end.
The perfect match for EBS ClassicLine cabinets. With the new design, the Classic 500 is the perfect match for ALL EBS ClassicLine cabinets, including the narrower mini size 112 cabinets, due to the new compact outfit.
The new EBS Classic 500 amp comes with a padded cover.
ARTISTS USING THE EBS CLASSIC 500: Johan Blomquist [Backyard Babies], Johan Bengtsson [The Sounds], JC [Danko Jones], Anders Iwers [Dark Tranquillity], Jonas Rydberg [Bombus], Per Wiberg [Kamtchatka], Mats Rydström [Abramis Brama] and more...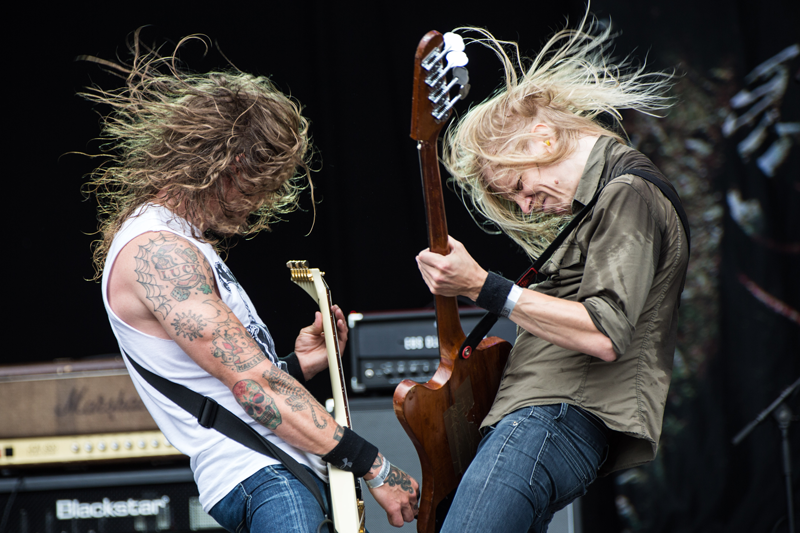 Bombus. Photo: Daniel Falk.
Specs
EBS Classic 500
Input Impedance 1 Mohms
Gain range -oo / +28 dB
Character filter Shelving High/Low Pass
+6 db @ 75 Hz
-2.5 dB @ 800 Hz
+3 dB @ 9 kHz
Tone Controls
Bass Shelving +/- 15 dB @ 100 Hz
Low Mid Sweepable 150-900 Hz +/-15dB, Q=0.9
High Mid Sweepable 1.2-7 kHz +/-15dB, Q=1.1
Treble Shelving +/- 15 dB @ 10 kHz
Drive Section Gain 0-30 dB, Low end compensation
Other Features
Balanced Output,
Line Out
Minimum speaker impedance 2 ohms
Output Power
500 W RMS @ 2 ohms load
440 W RMS @ 4 ohms load
Dimensions (W x D x H) 19.3" x 11.8" x 8.5" (49cm x 30cm x 21,5cm)
Weight 14 kg / 31 lbs
Reviews
FROM PREMIER GUITAR
"The Classic 500 earns its name with classic style and classic tone. Pair it with the great-sounding ClassicLine 210 for a powerful rig that can handle almost any gig."
Read the whole review:
http://www.premierguitar.com/articles/20864-ebs-classic-500-review
---
FROM MUSIKER MAGASINET, No 4, 2014
by Ulf Widlund (translated from Swedish by the author)
"This is not an old all tube amp – it just sounds like one."
"The fact is it sounds better than some all tube amps I have owned."
"In my Classic 450 review I wrote that it was the best sounding overdrive I've ever heard. Well, now it sounds even better."
"The most impressive feature was the Drive function. EBS has somehow improved an already brilliant construction and made it sound very close to a hard driven tube amp, sweating under pressure."
"It's no doubt a modern amp – slim format, flexible filters and a generous output power that will cover most gigs."
"The basic sound is good enough to just plug and play and the Character switch it all it takes to make me happy. If you have any special needs the onboard eq will do the job."
"There is no problem to create sounds ranging from a classic warm to a barking aggressive or sweaty funk slap sounds."
"It sounds surprisingly natural and warm even when it's cranked up."
---
Photos