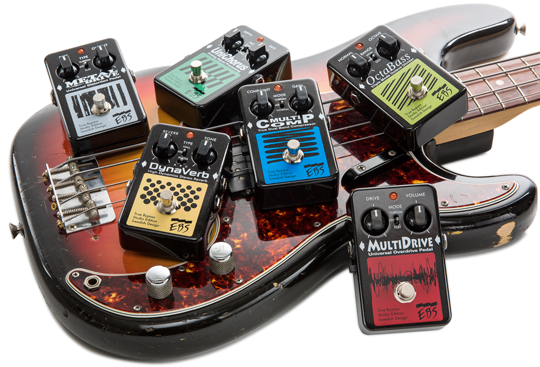 Here are 5 big reasons for bass players to check out EBS bass effects!
Built from the bottom up.
EBS make bass effects with focus on the bass player's needs first. The challenges to make effects for bass are that they have to cover an extremely wide frequency range compared to a guitar. We design and develop effects from the bottom up to meet the challenges that come with the range of tone that a bass guitar produces and we care for the details to make possible to preserve the bottom of Your sound.
Studio quality sound in a stompbox format.
The EBS pedals performs just as good live as they do in the studio. The electro-mechanical components used in the pedals are of the same superior quality as in our premium bass heads, which cares for a noiseless, high quality tone. The extended frequency range from 20-20000 Hz secure great sound from the lowest lows to the highest highs, and is the reason why EBS bass effects handles basically any other instrument than bass too.
Roadworthy construction.
The combination of high-quality components and a protective die-cast housing makes the EBS bass effects perfect for touring conditions. These tools are made for the professional, hard working, touring bass player!
Based on more than 25 years experience making bass effects.
EBS first effect for bass – the legendary OctaBass – came out in 1992. That means more than 25 years of invaluable in-house experience of making bass effects. The expertise within the company has helped develop our wide range of effects units – all designed with the bass players in mind!
20 distinct models to choose from.
The EBS bass effects are currently available in 20 distinct models – from various filters to several distortions. Whatever your needs are, you are very likely to find the solution within our range of effects. Meanwhile, our tech department is constantly developing new ideas. The units' works perfectly together – so why go anywhere else?
EBS effects are available in most countries, and through most of the major online shops for musical equipment. If you have trouble to find them, contact EBS for help.
EBS Professional Bass Equipment – Great Tools To Play With!
Read also…