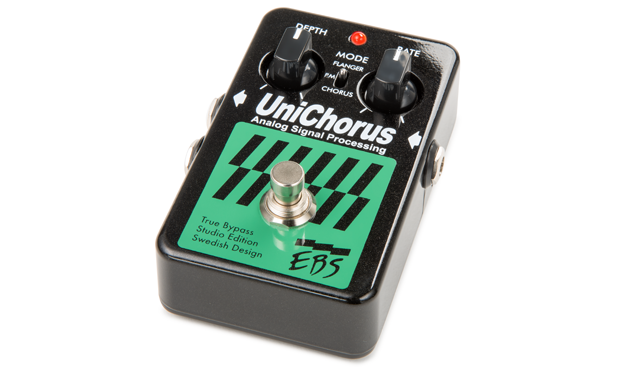 "The instant I heard the EBS UniChorus I knew I had found the right one."
- Jeff Berlin, bass legend
General
Specs
 Demos & Samples 
Reviews
Photos
Interactive Demo
General
THE EBS UNICHORUS STUDIO EDITION LET YOU CHOOSE BETWEEN LOW NOISE STUDIO QUALITY CHORUS, FLANGE AND PITCH MODULATION EFFECTS.
---
Analog Processing
The pedal is built with the best analog processing circuitry available. This gives a smoother, warmer and fatter sounding chorus/flange effect, useful both for live and studio performances. The pedal output can run in mono or stereo.
Effect mix level
Under the hood of the UniChorus, there's a mix level control that lets you decide how much or little of the effect you'd like to be blended with the original tone. See the manual for details.
Evolution
The UniChorus was first introduced in 1997. From the 2008 edition improvements added 3 dB higher headroom, higher sensitivity (makes it easier to dial-in), and new analog circuitry with higher dynamics and lower noise, as well as true bypass switching technique.
The Studio Edition features an optimized signal path, new design, new signal relay switching technique, protection against overvoltage up to 18V, and the possibility to power the pedal with anything between 9-12V DC.
Not just for bass players. The UniChorus is suitable for bass as well as keyboard. For guitar, we are now happy to present the EBS RED TWISTER!
Specs
EBS UniChorus Studio Edition
Nominal Input Level - 8 dBv

Input Impedance 700 kohms

Bandwidth +0/-3 dB 20 - 20 kHz

Delay Bandwith +0/-3 dB 200 - 8 kHz

Delay Level mix min/max -oo - +3 dB

Center Delay Time
Flange 3 ms
Chorus 5.5 ms
Pitch Modul. 10 ms

Modulation Depth min/max +/- 50% of nominal delay time

LFO Range min/max 0.15 - 7.5 Hz

Bypass True Bypass

Dimensions (L x W x H) 2.8 x 4.5 x 1.4" (70 x 115 x 35 mm)

Weight 400g (0.88 lb.)

Power Requirements 9-12 V DC Regulated, 35 mA max


* EBS Recommend the use of the EBS AD9 Pro DC adapter.
The adapter can supply up to twenty pedals at the same time.
Reviews
REVIEW from Bonedo (in German)
by Oliver Poschmann


"Das EBS UniChorus Studio Edition Pedal kann auf voller Linie punkten: Die druckvolle, seidigen Chorus-Sounds, optional umschaltbar auf Pitch Modulation und Flanger, überzeugen mich voll und sind über jeden Zweifel erhaben." Verdict: 5 out of 5
Read the whole review (external link) >>



---
Photos
Interactive Demo