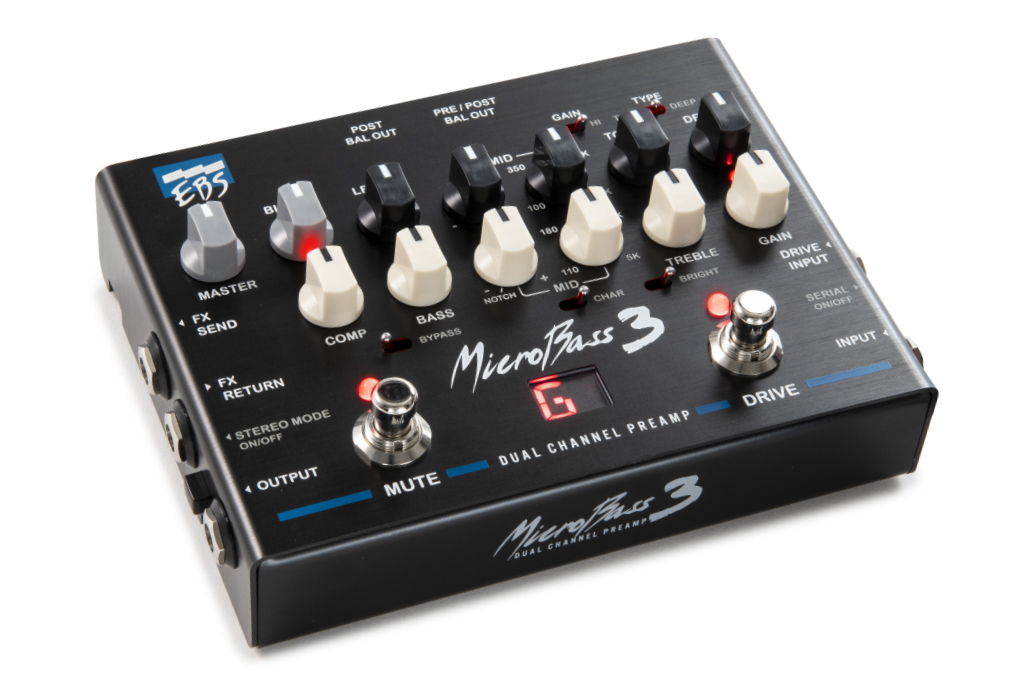 The superior, analog, 'multi-tool' for bass players!
General
Specs
 Demos   
Photos
Reviews
Who's playing it?
General
THE EBS MICROBASS 3. WE'VE ALL BEEN THERE. BEING FORCED BY CIRCUMSTANCES TO RELY ON SOMEONE ELSE'S GEAR AND LEFT WITH THAT UNEASY FEELING IT COULD TURN INTO A DISASTER. WITH THE NEW EBS MICROBASS 3, YOU CAN LET GO OF THAT FEELING AND BE CONFIDENT YOU'LL HAVE YOUR SOUND NO MATTER THE SITUATION.
---
Built on famous EBS amplifier designs
The EBS MicroBass 3 is a 2-channel preamp, built exclusively with premium components. It is engineered by EBS in Sweden with technologies from the famous HD360 and Fafner II amplifier designs.


Professional grade signal level
The preamp operates at a signal level equal to a professional mixing console which gives you plenty of headroom. The high signal level makes it suitable to use as a preamp in combination with any type of power amp.


Clean and Drive in series or parallel
Run the Clean and Drive channels in series or parallel. Use the dual balanced XLR-outputs to tap the signal post and pre EQ at the same time. If you run the Effects loop in stereo mode, the balanced outputs become a Left and Right output instead.


Handles any type of bass
With 10 Mohms input impedance, it handles any type of bass – passive, active, or with piezo pickups.


Onboard Tuner & Compressor
The built-in tuner makes it easy to tune between songs without the need of an external device. The MicroBass 3 also carries an onboard compressor, similar to the one found on several EBS amplifiers.
The analog EBS MicroBass 3 ensures your sound – every time.
Specs
Clean Channel:
Input Impedance  

Parallel mode  1.5 Mohms // 44 pF
Serial mode  10 Mohms // 22 pF

Gain:

Gain Range min/max -oo/ +30 dB
Gain Peak LED +10 dBv
Frequency Response  +0 / -3 dB  20 - 20.000 Hz

CHARACTER:

Filter Type  Shelving High/Low Pass
Gain:  Lo  +6 dB @ 80 Hz
Mid  -2 dB @ 900 Hz
Hi  +3 dB @ 7.5 kHz

BRIGHT:

Filter Type  Shelving.  Gain:  +10 dB @ 10 kHz

FILTER SECTION: 

Bass Filter:  Type   12 dB/oct. Shelving. Gain Range  +/- 18 dB @ 60 Hz
Middle Filter: Type  Bandpass Filter. Freq Range  50 - 5.000 Hz. Q - Boost  0.5 - 1.3,  Q - Cut  0.5 - >5.  Gain Range +/- 12-15 dB
Treble Filter: Type  Shelving. Gain Range +/- 18 dB @ 8 kHz

COMP/LIMIT: Comp Gain  0 dB

Attenuation max  24 dB
Compression Ratio max  3:1
Attack (80%) typ  <10 ms
Release (80%) typ  100 ms
Drive Channel:
INPUT: Input Impedance   1.8 Mohms // 22 pF
DRIVE: Gain Range  40 dB
ENGINES:

Lo: Type   2nd harmonics soft
Hi: Type   Symmetrical 2-stage with +18 dB gain

TYPE:  Thin/Normal/Deep   Pre Drive EQ
FILTER SECTION: 

Tone Filter:   Type  6 dB/oct.   Low Pass. Frequency Range  700 - 20k Hz
Middle Filter:   Type   Bandpass Filter. Frequency Range 100 - 4.500 Hz. Q  1.2,   Gain Range  +/- 15 dB
EFFECTS LOOP:
Loop Signal Level nominal  -10 dBv
Gain  Unity (1:1)
Output Impedance  <100 ohms
Input Impedance  >200 kohms // 22 pF
PHONES OUT:  
Recommended Impedance  32 - 200 ohms
AUX INPUT:  
Input Impedance  20 kohms
Nominal Level  -10 dBv
OUTPUT: 
Output Impedance  <1 kohms
Signal Level  nominal  0 dBv
BALANCED OUTPUTS:
Output Level  nominal  -20dBv
XLR Connections  1-GND, 2-Hot, 3-Cold
Options  Pre/Post EQ, L/R Ch. in stereo mode
AUXILIARY INFO:   
Power Requirements   Idle  450mA @9V. Max  750mA @9V (with headphones at max output level)
Dimensions (WxDxH):   max  168 x 124 x 53 mm / 6.6" x 4.9" x 2.1"
Weight:  660 g ( 1.5 lbs.)
Specifications are subject to change without notice.
 Demos   
From Bonedo.de, bass demo turning all the filters while playing. No talk: Demo by Samuel Nilsson, straight into the DAW: Demo by Erik Arkö, straight into the DAW:
Photos
The setup above incorporates an external effect unit into the FX loop. The Dual Balanced XLR-outputs sends one Pre and one Post EQ signal or sends both signals Post EQ for the Clean and Drive Channel respectively, depending on the settings. 
In the setup above, a Y-split insert cable (EBS ICY-30) is used for the FX Return (and the Stereo Mode Switch is set to 'on'). This will allow stereo effects to be monitored in stereo through the Headphones Output. It also turns the two Balanced Outputs into Left and Right (post EQ), so you can record in stereo.
Reviews
Guitar Interactive Magazine, no 71 (2020):
"It's so good; the design is bound to be copied soon!"
Premier Guitar Magazine, November 2019:
"I achieved full P bass-tone glory and was ready to gig or record by simply engaging the well-voiced character switch." - Victor Brodén, Premier Guitar
Read the full review here:
https://www.premierguitar.com/articles/29556-ebs-microbass-3-review
Bass Guitar UK, October 2019:
"A superb piece of kit, the improvements were worth the wait".
BMG rating:
Build Quality: 9 of 10
Sound Quality: 9 of 10
Value: 8 of 10
Gitarre & Bass, Germany (in German), no 7, 2019:
A review in German, find out more here...
https://www.gitarrebass.de/equipment/test-ebs-microbass-3/
From BassTheWorld.com
Digimart.net Bass Magazine (in Japanese):

Who\'s playing it?
Artists using the EBS MicroBass 3 Preamp on tour
Steve DiGiorgio - Testament
John Campbell - Lamb Of God
Elin Sandberg - Harry Styles 
Pawel Maciwoda - Scorpions
Johan Andreassen - Amaranthe
Niklas Sandin - Katatonia
and many more...

John Campbell - Lamb Of God.

Elin Sandberg - Harry Styles

Pawel Maciwoda - Scorpions