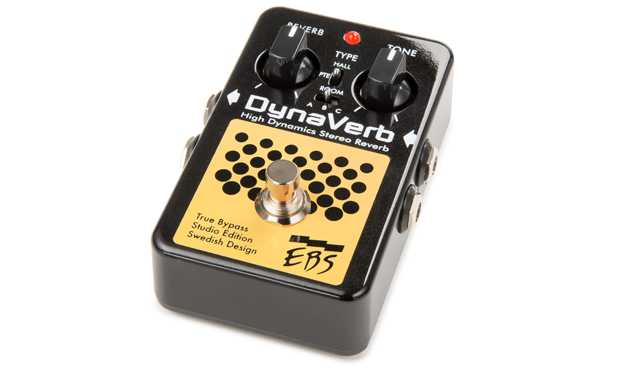 "I'd like to use just one word to describe this pedal, Wow! This 24bit digital reverb has so much to offer in such a small pedal sized box. This one is a real winner".

-  iGuitar Magazine, UK
General
Specs
 Demos & Samples 
Reviews
Photos
Interactive Demo
General
SOLD OUT! THE EBS DYNAVERB STUDIO EDITION OFFER EIGHT DIFFERENT TRUE STEREO DIGITAL REVERB EFFECTS, FROM ROOMS, TO PLATES, TO HALLS. ALL IN A COMPACT PEDAL.
---
Outstanding performance
The EBS DynaVerb Studio Edition uses a 24-bit digital processing circuitry for outstanding and noiseless performance on stage and in the recording studio. It has stereo input as well as stereo out.
The foundation
The DynaVerb features three different Modes or types of reverb - Room, Plate, and Hall. Room and Plate can run in three variations, A, B, and C (explained in detail in the manual), while the Hall reverb offers two variations A, B (C same as B). It makes a total of 8 different reverbs. The controls simply set the volume for the tone (Tone), and how much of the reverb you'd like to blend in (Reverb).
Serial, or parallel
Inside the box, you can change the pedal to run in parallel mode, if preferred in the studio.
Evolution
The DynaVerb was first introduced in 2002. From the 2008 edition improvements added 3 dB higher headroom and new analog circuitry with higher dynamics and lower noise, as well as true bypass switching technique. 2015 introduced a completely new design of the pedals looks and adding a new signal relay type switch for secure and silent action, protection against overvoltage use up to 18V, possibilities to power the pedal with anything from 9-12V DC, and an optimized signal path for studio-quality sound.
Not just for the bass player. The EBS DynaVerb Studio Edition is highly recommended to use with bass and keyboard. The Stereo in and out adds to the usability and the excellent sound quality is comparable to any studio rack unit. EBS now also offers a DynaVerb Guitar Edition, with a different tail suited especially for use with guitar.
It is strongly recommended to use the DynaVerb with a 9V DC power adaptor, such as the EBS AD-9+. Consider battery use only as a backup solution. Battery not included.
Specs
EBS DynaVerb Studio Edition
Nominal Input Level - 8 dBv

Input Impedance 1 Mohms stereo 500 kohms mono

Dry Bandwidth +0 / -3 dB 20 - 20k Hz

Reverb Bandwidth +0/-3 dB 20 - 20k Hz

Tone Low Pass Filter min / max 1 / 20 kHz

Reverb Types 3 Rooms, 3 Plates and 2 Halls

Sampling Frequency 48 kHz

Dynamic Range 107 dB A-weighted

Dimensions (L x W x H) 2.8 x 4.5 x 1.4" (70 x 115 x 35 mm)

Weight 400g (0.88 lb.)

Bypass True Bypass

Power Requirements 9-12 V DC Regulated, 100 mA max.*


* EBS Recommend the use of the EBS AD-9+ DC adapter.
The adapter can supply up to twenty pedals at the same time.
Reviews
REVIEW iGuitar Magazine, issue 36, 2015
"I'd like to use just one word to describe this pedal, Wow! This 24bit digital reverb has so much to offer in such a small pedal sized box. This one is a real winner". DynaVerb review starts at 22:43
Photos
Interactive Demo