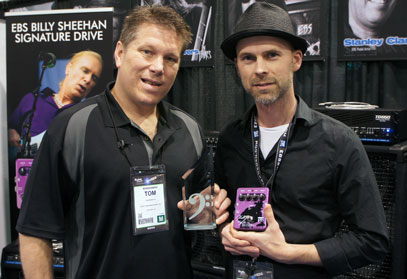 Sunday had a few surprises left of goodies for sure! EBS landed a "Best In Show" award for EBS Billy Sheehan Signature Drive from Bass Gear Magazine, and a lot of our friends came by that hadn't had the chance to stop by earlier or returning to say goodbye. We would like to thank everyone coming out to see us, check out the gear and watching our amazing artists perform for a great show and we will definitely be back next year! Enjoy the Sunday pics and come back soon for more, including videos from NAMM! At the end of this post, you'll find a video feature with Billy Sheehan on the new pedal that MusicRadar.com put out from the show! See ya soon!
Ps. Apparently, one of the links to the blog from www.ebssweden.com does not work properly. If anyone hear about someone having trouble to visit the blog, they should use www.ebssweden.com/ebsblog and they will come through. 
————————————————————–
EXTRA FEATURE OF THE DAY: BILLY SHEEHAN PLAYS AND TALKS ABOUT THE EBS BILLY SHEEHAN SIGNATURE DRIVE!
[youtube:http://youtu.be/ll6jvwHYIIk]