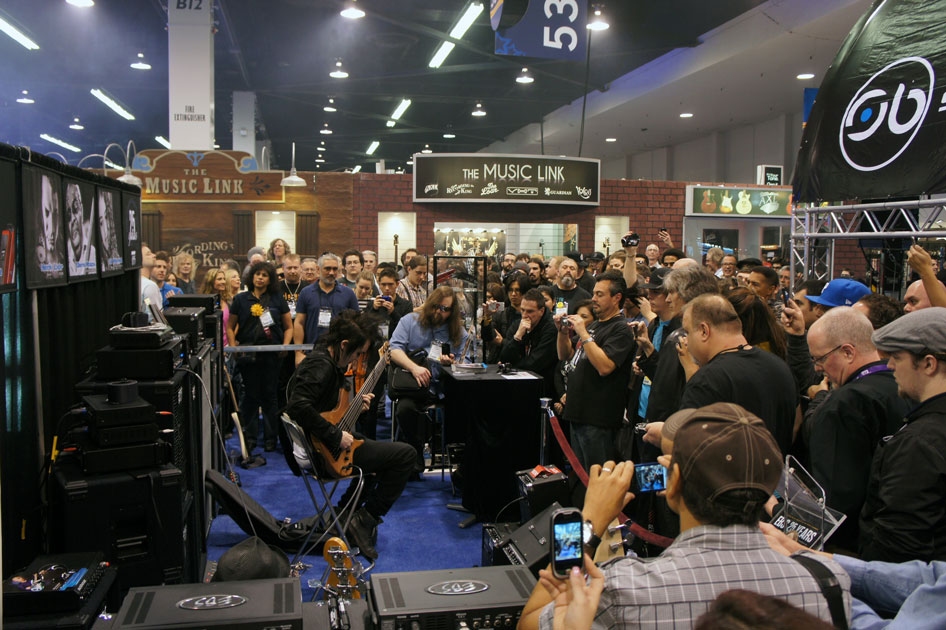 Saturday was crazy! Rocker's Cometogether with Bjorn Englen and Marten Andersson turned out great, although Michael Devin got stuck on the highway with a flat tire. We apologize for that and Michael felt really sorry about it, but those things happen and we will make up for it another time! Henrik Linder, Etienne Mbappé and Swaeli Mbappé did some unbelievable playing at the booth, and the Saturday signing with Henrik slammed the booth! Celebrity superstar Stevie Wonder walked by, and later on did a few songs unannounced with a band at the Hilton after party. We also got to see EBS Pedal Artist Eddy Khaimovich play at the MTD Family Reunion party, a benefit show for the cause of musicians in need.  
Ps. Apparently, one of the links to the blog from www.ebssweden.com does not work properly. If anyone hear about someone having trouble to visit the blog, they should use www.ebssweden.com/ebsblog and they will come through. 
Stay tuned and come back tomorrow, with a special feature on EBS flagship the Fafner II – read and learn about it's deepest secrets!
————————————————————–
EXTRA FEATURE OF THE DAY: INTERVIEW WITH EBS PEDAL ARTIST AND GUITARIST MIKE SCOTT!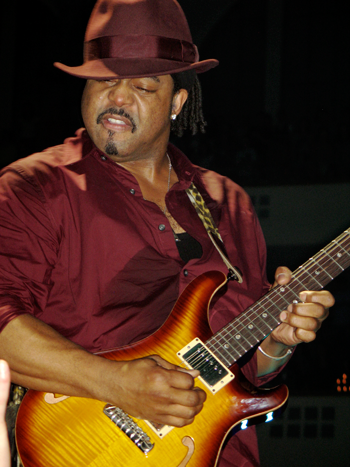 THE FIRST TIME WE MET GUITARIST MIKE SCOTT WAS BACKSTAGE ON THE JUSTIN TIMBERLAKE FUTURESEX/LOVESHOW TOUR BACK IN 2007. INVITED AS GUESTS BY THE BASS PLAYER AND EBS PEDAL ARTIST KEVIN WALKER, WE GOT THE PRIVILEGE TO SEE BEHIND THE SCENES OF THE TOUR BEFORE THE SOLD OUT SHOW IN THE MIGHTY GLOBE ARENA IN STOCKHOLM. IN ONE OF THE AISLES WE GOT INTRODUCED TO SOME OF THE OTHER BAND MEMBERS, AND AS SOON AS MIKE HEARD WE WHERE FROM EBS, HE LET US KNOW HE HAD AN EBS BASSIQ ON STAGE, USING IT WITH HIS GUITAR!
By Ralf Bjurbo
How did you discover the EBS BassIQ worked for guitar in the first place?
–At the time I started with Prince´s New Power Generation back in ´96, Rhonda Smith was using the BassIQ and I was a freak for the envelope filter sound on guitar. The BassIQ was the best sounding envelope I had ever heard, and this was before I even tried it on my guitar. The shape and tone of the filter blew me away.
The word "Bass" is in the name, but what is your impression from using it with guitar?
–That's the trick; I never tried EBS pedals, because I thought they were exclusive to bass! Once I tried the IQ I was curious to try the other products EBS had to offer too. On the guitar, the pedals offer the same high quality tone as when plugged into a bass. The frequencies are quite responsive on guitar.
Slipknot guitarist Mick Thomson said when I met him that the EBS Pedals are excellent for drop-tuned seven-string guitars, which makes sense since they are intended to handle low frequencies better than the regular guitar effects, but you come from a totally different musical context, do you still think there are any advantages that these pedals have over guitar specialized effects?
–I find the pedals to be very rich and full sounding on guitar. You don't lose any tone quality or natural eq shape of your guitar tone. I'm sure it has to do with the fact that the pedals are designed with bass guitar in mind. The gigs I do cover many musical styles – rock, funk, pop, r´n´b, reggae, blues, jazz, metal, whatever – and the pedals are dependable and responsive, no matter what style you play.
Since then, you have added a few more EBS pedals to your setup. Which ones do you use now, and for what purposes?
–Depending on the gig, I may add or take away some of the EBS pedals. I use the MetalDrive, TremoLo, OctaBass in my rig when needed. The MultiComp, DynaVerb, MultiDrive and BassIQ are always in all of my pedal boards. I also use the EBS MicroBass II preamp in my home studio, that pedal is a beast!
Is there anything special that you have discovered with EBS pedals that other guitarists can also learn from?
–All of the EBS pedal should be explored by guitarists to find the sound that suits you best, but I use the following pedals for specific purposes that may be useful to other guitarists as well. The MultiComp is great in front of your distortion pedal for adding more body and sustain to your lead or crunch tone without a lot of compression,"breathing sound" and unwanted noise …The DynaVerb is the lushest sounding stereo reverb I know. I use it all the time under solos – awesome sound! – and on ballads playing rhythm guitar parts and on clean funk stuff. With the right blend, it adds a beautiful dimension of sound to your existing guitar tone. The MultiDrive is great for pushing the front end of your amp to get a little more fire out of it and add more natural sounding tube overdrive. The BassIQ …well I don't have to explain that one, you just have to plug it in. I run this pedal along with a clean tone from a second amp; the two sounds together are funkier than a duck. That pedal quacks! The MetalDrive gives you all the high gain shredding power you need . The TremoLo and OctaBass sound awesome alone or with distortion running through them – huge sound, huge tone.
How do other guitar players react to the fact you are using bass effects?
–The initial reaction is usually the same: " I thought those pedals were for bass only", but they are always blown away from the tones coming from the pedals.
Speaking of approaching and incorporate the use of effects in general, do you have any advice to guitarists on how to develop their tone using effects?
–I think using pedals will greatly influence any guitarist´s creativity and they will open new ideas on how to approach their own sound in a unique way. I suggest always trying pedals in extreme settings and moderate settings and record them and listen back. Distinguish the differences in the sounds and playing technique they applied while using the pedals. Don't get caught up playing the pedals instead of playing the guitar. The pedals need to create different templates or colors for the player to paint with. Don't be shy to try something completely different with the pedal engaged than what you would normally play if the pedal was turned off. Experimentation is the key.
You have tried EBS combo amps with guitar as well, how did that work out really?
–EBS combos will surprise many guitarists. Though they are not tube amps, they have a warm, punchy sound that can be overdriven to create a tube tone. They have a wide variety of tone choices and are pretty loud to be in such a small package. Great amp for guitarists to jam with at home, in a band at rehearsal or at a live gig.
Finally, you have had some really high profile gigs over the years, including playing with Prince, Mariah Carey and Justin Timberlake. What are the most memorable gigs, and what are you currently up to?
–I must admit it has been a blessing to play with some of the artists I have encountered in my career. I had a few dates with Rihanna a couple of years ago, before Nuno Bettencourt took over. I had an audition with Michael Jackson before he died and I did a couple of tours with his brother Jermaine Jackson in tribute to Michael after his death. I toured with producer Timbaland last year on his solo project and did a tour earlier this year with an amazing Italian artist named Giorgia. I am currently back with Prince recording and rehearsing with some new artists for an upcoming tour. In between all of this I am releasing my own music. I currently have a song out called "Come On" and I am also co-producing and writing for others like this new dance artist named UNyX from my home studio in New Jersey. Keep your ears and eyes open for new projects and go to iammikescott.com for updates and new releases.
From the EBS 25 YEAR Anniversary Magazine.
Here's one of the video demo's that Mike has made on EBS Pedals with guitar:
[youtube:http://youtu.be/cspnoM2ztxs]