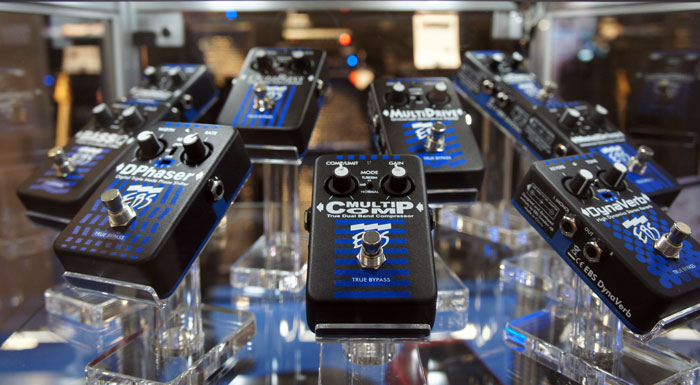 Third day at the MusikMesse was really loud! We should be honest and say we where loud at times too, but the overall sound level was almost hard to handle. No doubt tomorrow's gonna be a tough day too! Some amazing jams happened today, and we captured some of it on tape for release next week, or so. We also had Billy Sheehan visiting again checking out the Reidmar, as well as lot's of visitors trying amps and checking out pedals. 
Today we will talk a little about EBS Pedals. Although made for bass, these effects are equally good for guitar and keyboard too, it's just that we never put in an ad about it, so relatively few knows about it. Anyway, we hope that the test stations for pedals where you can try them with guitar help spread the word. We also co-operate with some friends and companies in the business that help us tell about them.  An example of that is that EBS pedals will soon be on display at PRS Nashville Artist Showroom, another one is our co-operation with LA Sound Design, who build pedalboards and touring rigs for a lot of LA based pro guitarists.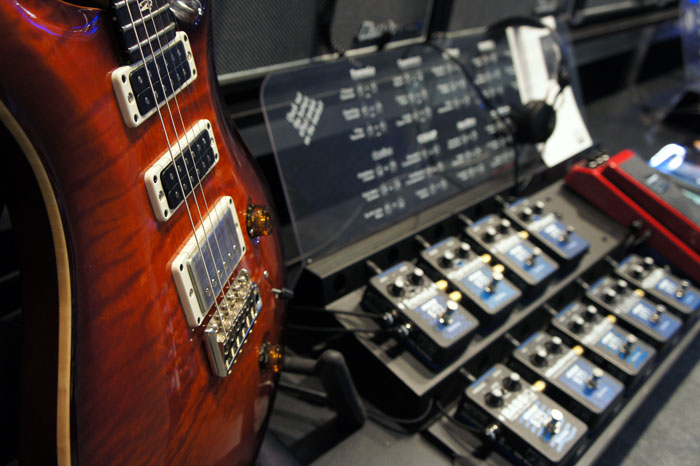 Some of EBS pedals also have added controls under the hood that can be used to fine tune some settings to make the pedals more suitable for other purposes than bass, or to adjust them to work ideal for your particular bass. Some more info about which pedals has what possibilities can be found in this feature on our Guitar blog (will open in a new window).
We get a lot of great feedback from our artists, and we'd like to share some of that with you right now. John Campbell, the bass player of Lamb Of God, and their producer Josh Wilbur, let us know that all bass on their new album was re-amped through an EBS MultiComp, so all bass you hear on that album got some EBS treatment! They also used the EBS DPhaser on a couple of songs. Josh said he never had received so much comments about the bass sound before, which he gave the MultiComp a lot of credit for.
Another comes from guitarist Mike Scott, who we met the first time backstage the Justin Timberlake Love, Sex, Sound tour. Mike told us then he loved the EBS BassIQ, and that he had used it since he played with Prince and former Prince bassist Rhonda Smith recommended it to him. Since that time, Mike has been starting to use several other EBS pedals, and has become a great fan of the MultiComp and DynaVerb pedals that he use regularly.
Last summer we met Slipknot guitarist Mick Thomson. He's a big fan of EBS effects too, and let us know they work excellent with drop-tuned guitars and together with his signature mikes, that has very high output. Not all guitar pedals keep up with that combination, but the EBS pedals never fail to respond and offers great action, he told us. Mick later did a signing for EBS at the NAMM Show.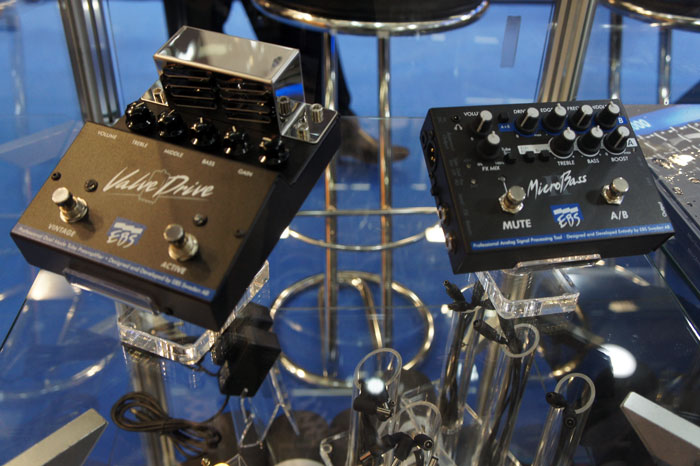 A pedal that not always get the attention it deserves is the EBS ValveDrive. This little tube beauty serves two different purposes. Either, you use it as an overdrive, or you just use it to turn your solid state amp into a tube amp! A bass player/producer that really enjoy the ValveDrive is Justin Meldal-Johnsen, the bass player from Beck, that is also producing a lot of artists. He revealed he is using the ValveDrive on many things – all from bass, to vocals and even drums at times. If you like to use it as a preamp, a good advice is to push the pad on the back of the pedal, so you lower the input signal a bit (even if you play a passive instrument), that will give you more span on the Gain before it starts to distort. For that purpose, turn up the volume know on the pedal, and work with less gain, and you should be able to get some nice tube tones. If you use it as overdrive, work with less volume on the pedal and more gain, and use the tone controls to boost the mids, bass, and highs as much as you want. An artist that has been using the ValveDrive for a long time just to beef up a solid state amp is rocker James LoMenzo.
The EBS MicroBass II is another great one, that you can see and hear Stanley Clarke talk about, if you search for the Stanley Clarke rig rundown at Premier Guitars's website.
Well, we're not here to bore you with more details now, but we encourage all of you to get out there and test EBS effects both with bass and guitar – it could be a big surprise!
Finally, just before MusikMesse, we landed two new artist to EBS roster! On the pedals, we got Opeth's bass player Martin Mendez, who will use the MultiDrive and ValveDrive on the upcoming Opeth US tour. On the full rigs and pedals, we got Straight Frank's bass player Henrik Edenhed. Straight who, you might think? Well, Straight Frank just released their debut album on Sony Germany and is a band from Sweden that are so amazingly good that we think it's worth a shot hooking up with them already now! If you like Foo Fighters and Audioslave, and like the idea of a band that kind of offered a mix of that, theres no excuse to not check out this band now at http://www.straightfrank.com
See you all tomorrow!
/The EBS Team
[slideshow]