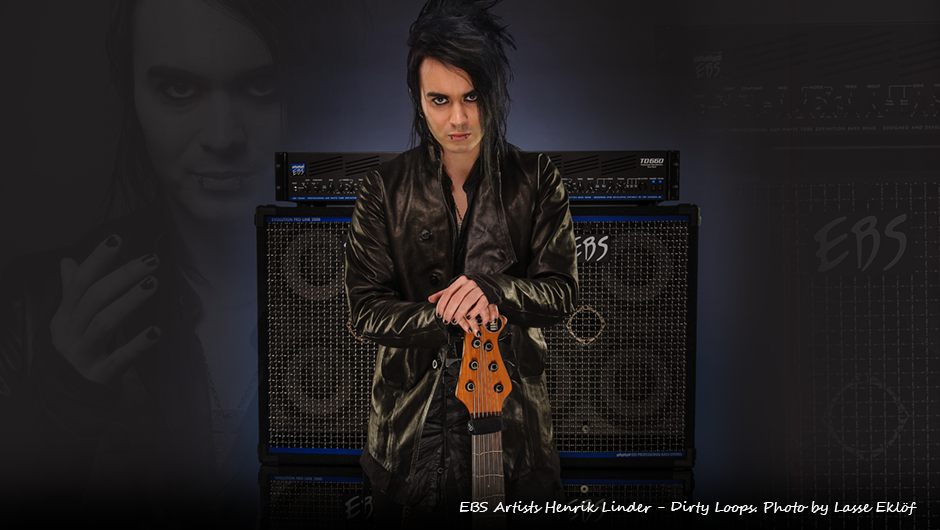 DIRTY LOOPS? IS THAT A POP BAND OR A FUSION BAND? DOES IT EVEN MATTER? SOME BELIEVE THEY WILL START A NEW PHASE IN MUSIC, THE KIND THAT STANLEY CLARKE MENTIONS IN A PREVIOUS INTERVIEW ON THE EBS BLOG. OTHERS ARE SCEPTIC AND THINK THEY STILL HAVE A LOT TO PROVE. ANYWAY, THE YEAR 2014 WILL PROVIDE THE ANSWER WITH THE RELEASE OF DIRTY LOOPS´ DEBUT ALBUM 'LOOPIFIED' (released in April in Japan – and on top of the charts, and will be out in Europe on May 19, and in the US on June 10).
INTERVIEW BY RALF BJURBO. PHOTO BY LASSE EKLÖF (from EBS Magazine 2014)
We never thought about what genre we´re in. We have both pop and fusion influences, but a lot of other influences as well. The band is very much about pushing limits and to never play safe. What we are I guess is up to others to decide, it does not really matter to us", Henrik Linder, Dirty Loops´ bass player, says.
It seems that the big buzz really came after you re-arranged the Justin Bieber song, Baby, around Christmas 2011. Then you went to LA yourself shortly after?
"We went to LA to do showcases to secure a record deal. During that trip is when we first realized we had something going on that was real. The word of where we rehearsed apparently had spread and one of my biggest bass heroes, Nathan East dropped in while we rehearsed. We met a lot of our musical heroes during that trip and it was an almost imaginary feeling that they knew who we were and liked our music. The showcases went well and as a result, months later, David Foster – Verve/Universal – signed us."
I've met musicians that put their hopes in Dirty Loops bringing back great musicianship to the tops of the charts again, the way it used to be. Does that add pressure or is it more of an inspirational boost to help you work even harder?
"It's definitely just inspirational. It's been a great honor to hear those kind words from all those players we grew up listening to."
The new album is completed and the release is around the corner. The first song of the album, Hit Me, is on YouTube and iTunes. What are your own expectations on the album?
"I'm very happy with the way the album turned out and the reception of Hit Me. I hope people will like it and appreciate that we stayed true to who we are and that we didn't sell out."
The last time we spoke, you mentioned there were no plans to incorporate more instruments in the mix, however, there are songs on the album that involves other musicians. Could you tell us about that?
"Yes, that was the original plan, but things changed along the way. We had a twenty-five person string ensemble on two songs, which was a blast to hear that, there was percussion on some songs and harmonica on one song. We also had (LA session trumpet veteran) Jerry Hey arrange horns for two songs. For me personally, that was huge, a childhood dream come true to work with him. The arrangements and the LA session horn men playing them was mind blowing, and I'm so happy that they wanted to be a part of this."
Do you feel ready to take it out on the road?
"Yeah, absolutely! We've all been eagerly waiting for this moment for almost two years."
How will you translate the recorded material into the live show performance? Will it incorporate a lot of pre-recorded backtracks in order to re-create the produced material, or is it basically just a way of working with the arrangements to suit the live show?

"We will bring an extra keyboard player for the live gigs to cut down on the tracks, but I think we will probably also rearrange some stuff for the live situation."
Another thing that I've noticed, is you've gone from a standard bass rig to a stereo setup? What's your new live rig look like, and what are the reasons to go stereo? Does it have to do with your being a three piece band or, maybe an idea inspired by somebody else that plays a similar kind of rig?
"I've started to incorporate MIDI in the rig, so actually it's two stereo rigs. One goes DI and the other is miked. Most synth bass sounds will go directly into the PA and all bass sounds will go through the TD 660s and the four 4×10 Proline cabinets. The stereo rig is to make delays and modulation effect sound fatter, and to be able to split signals when I trig synth bass sounds blended with the clean tone." *

* Since the interview, Henrik's live setup has developed further to a 'wet-dry-wet' setup. We will return soon with more details on this unique setup! Photo by Henrik Linder.
Your bass has undergone some changes, like these weird looking frets. What's that, and what basses do you use now?
"I still play Swedish Mattissonbass six- and seven-string instruments exclusively. The True Temperament frets have way better intonation than regular frets. I just don't see any reason not to use them."
How do you approach the bass in terms of creating your own unique style, which you certainly have?
"I never really thought about creating my own style. I never transcribed other people except for figuring out what they do harmonically. That's a way I've gone although I know many people that sound very unique that transcribed as well. I think I've tried to sound like guitar, piano or saxophone players and then applied that to the bass. If people feel that is unique I'm glad to hear that. Also, Aron and Jonah always want to add to the bass part that's not in my nature to play, which constantly develops me. If something is hard for me, it's hard to come whine about it to someone who plays keyboard and sings over the top at the same time. I never want to get stuck and I want to develop my playing for as long as I live."
Finally, do you have any exercises to share to develop speed, timing and stamina? And what do you do to warm up for a show?
"With all of those things, the more time you spend on them the better you get. I try to combine technique and harmony practice over songs, and try to learn as many different approaches for it as possible. If I have the time, one of the things I do is to repeat short patterns for a long time in tempos that feel uncomfortable. I usually don't warm up before shows; maybe I should start doing so, haha."
Visit www.dirty-loops.com for links and details about the album, tour dates and more.
Swedish companies involved with DIRTY LOOPS include:
www.ebssweden.com – Henrik's bass amps and cabinets.
www.mattissonbass.se – Henrik's bass guitars.
www.truetemperament.com – Henrik's frets for perfect intonation.
www.ehrlund.se – Ehrlund Microphones, used for the drums live and in studio.
THIS STORY WAS BROUGHT TO YOU BY EBS PROFESSIONAL BASS EQUIPMENT