Ladies and Gentlemen, we are proud to announce the final addition to the Artist Signings at NAMM – TAL WILKENFELD! Tal will appear at the EBS Booth, Hall B, 5391, on Saturday, Jan 25, at 4:00 PM. See complete signing/demo schedule below…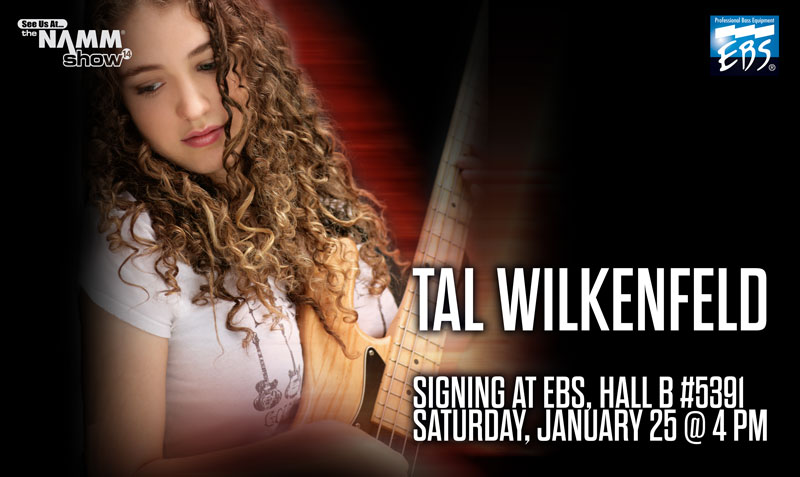 FINAL ARTIST SIGNINGS AND DEMOS SCHEDULE AT EBS, HALL B #5391
FRIDAY, JANUARY 24
12:00       TOMMY BROWN – DEMO APPEARANCE
2:00 PM   BILLY SHEEHAN – SIGNING
4:00 PM   BRANDEN CAMPBELL, Neon Trees – SIGNING
SATURDAY, JANUARY 25
12:00       TOMMY BROWN – DEMO APPEARANCE
1:00 PM   MIKE D'ANTONIO, Killswitch Engage – SIGNING
2:00 PM   BJORN ENGLEN, Dio Disciples | MICHAEL DEVIN, Whitesnake |
MARTEN ANDERSSON, Lizzy Borden – SIGNING
4:00 PM   TAL WILKENFELD – SIGNING
SUNDAY, JANUARY 26
12:00       TOMMY BROWN – DEMO APPEARANCE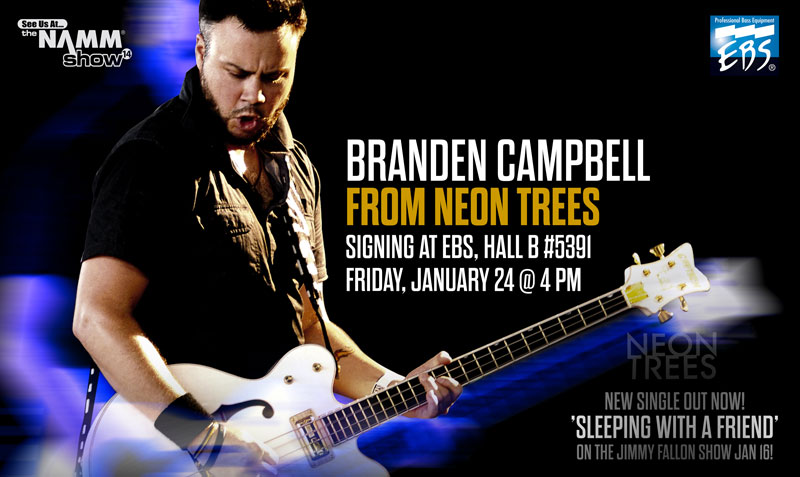 EBS Pedal Artist Branden Campbell is the bass player of the highly acclaimed and successful alternative rockers NEON TREES. The band just released their new single, Sleeping With A Friend, and announced the coming up album 'Pop Psychology' to be released in April! Based on the success of their previous two albums, there's no doubt you will hear alot from NEON TREES in 2014! Meet Branden Campbell at the EBS Booth, HALL B, 5391 on FRIDAY, JANUARY 24 at 4:00PM!
Ps. Listen to their new single here, and watch them perform on the Jimmy Fallon Show on Thursday, Jan 16!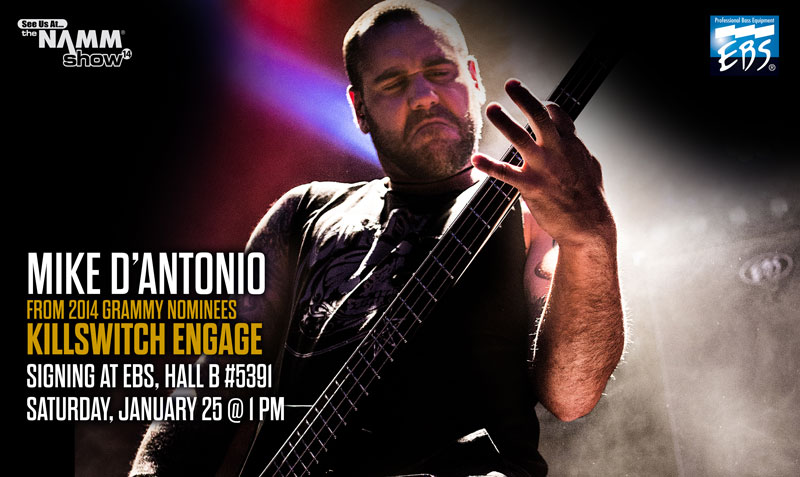 Mike D'Antonio with Killswitch Engage has been an EBS pedal artist for several years and took the step to EBS Amps & Cabinets in 2013, touring at least three continents with EBS last year.  His rig with EBS Fafner II amps (Reidmar on fly-in dates), ClassicLine cabs and EBS pedals power the band these days.  Killswitch Engage is nominated for a GRAMMY in the coming up 2014 Grammy Awards Show for 'Best Performance' in the Metal category for the song 'In Due Time' from their latest album, Disarm The Descent. Meet Mike at the EBS Booth in Hall B, #5391 on Saturday, January 25 at 1:00 PM!
We're proud to have Billy Sheehan back for a Signing at EBS 2:00 PM on Friday, January 24, 2014. The launch of the EBS Billy Sheehan Signature Drive that happened at NAMM last year wasa huge success and landed us a 'Best Of Show' award! The pedal would never have happened without Billy's great personal engagement in the developing process of the unit, and all of you that has been seing Billy on clinics, with The Winery Dog's or any other constellation this year have also heard him play through this great effect. Meet Billy in person at EBS booth, Hall B, #5391!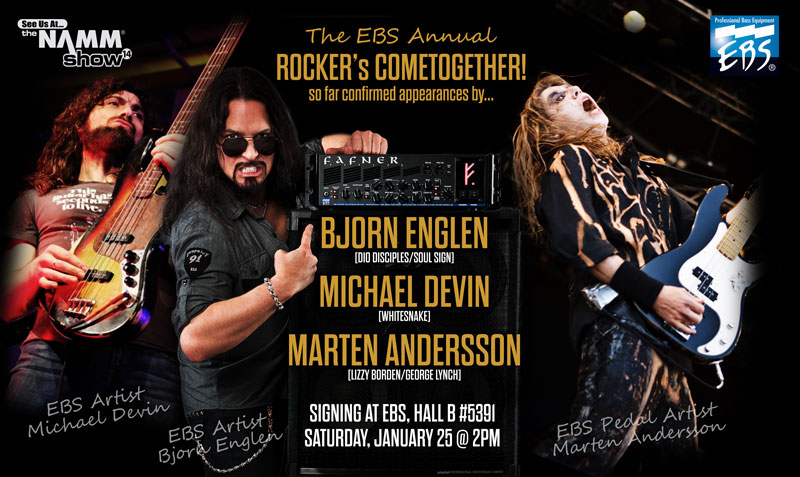 The EBS Rocker's Cometogether is a great annual event! This year featuring EBS Artist Bjorn Englen – that has been touring with Dio Disciples and Soul Sign through out the year, Michael Devin – who in addition to using EBS Pedals also brought EBS Amps & Cabinets on tour with Whitesnake on their 2013 US tour, and EBS Pedal Artist Marten Andersson – that has seen continuous success with the classic horror rockers Lizzy Borden in 2013. Marten is also known from 7 years with George Lynch's 'Lynch Mob'.  Meet these great dudes at the EBS Booth, Hall B, #5391 on Saturday, January 25 at 2PM!
Ps. All rockers, come at 1PM already to see Mike D'Antonio from Killswitch Engage too!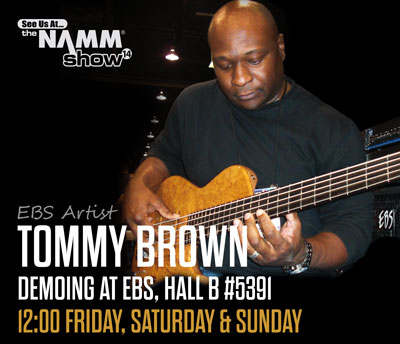 This year we will also have Gospel Great & EBS Artist Tommy Brown demoing at the booth! Tommy will make a daily appearance at 12:00 on Friday, Saturday and Sunday! He will also play with his band at the Bass Bash Show on Thursday Night, as well as appearing at the MTD Family Reunion Benefit Concert on Saturday night – both held at the JT Schmid's – Anaheim CA, 2610 E. Katella Ave., Anaheim, California 92806.
Speaking of the MTD Family Reunion Benefit Show, EBS will contribute with some fine prizes to their benefit lottery. For more info on the event: http://www.mtd4lyfe.org/mtd4lyfe-family-reunion-3/
As usual, You will be able to follow the NAMM Show on our daily blog from NAMM!
Just surf in on www.ebssweden.com between January 23-26 for daily reports from the show!
SEE YOU AT THE SHOW OR CONNECT THROUGH THE BLOG / The EBS Team