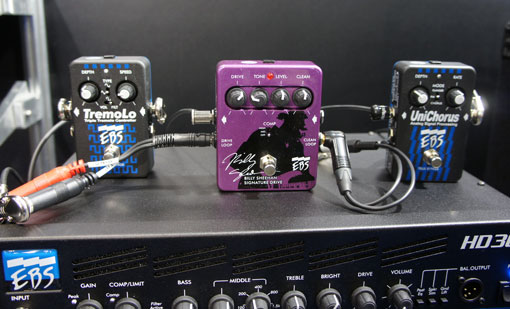 Here's a report from day 3 of the MusikMesse.
Friday at MusikMesse. New public afternoon.
New this year was that the MusikMesse opened up for the public after lunch on Friday already. Even if it always takes a while for everyone to get a change like that, there was significant more people on the floor and much louder than usual today! At an average 95dB as background noise it feels good to be back at the hotel in company of  a bit of silence.
Today we had Jay-Tee & the Mbappés playing again, and we met some great friends like bassist Yolanda Charles, drummer Nicholas Viccaro, bassists Hadrien Ferraud, Marco Mendoza, Billy Sheehan, Gary Grainger, Amaranthe bassist Johan Andreassen,  Overkill guitarist Dave Linsk and original Whitesnake guitarist Bernie Marsden on the floor.
Tip of the day!
For those of you that'd like to dig deeper with the Billy Sheehan Signature Drive, the tip of the day is to fool around with the two Loops offered! Perhaps the most common way to use the Drive Loop is to put an EQ in it, to be able to change the character of the drive. But, as seen in the picture, you can create new effects with some creativity, like here when we put an EBS TremoLo effect in the loop. That way, you keep a clean solid bottom with untouched sustain while on top of that you get a pulsating tremolo effect on the drive only! Really cool, and just an example on how you can use it. Also in the picture we hooked up an EBS UniChorus on the clean loop.
We got some great leads today that we will hope to be able to use to serve all of you soon. It should be interesting…
Is Tal Wilkenfeld going to be at the show?
Finally, we got so many people asking if Tal Wilkenfeld's going to be around this year? Well, no…but check out the event at the Madison Square Garden this weekend and you might get a good reason why she could not be at the show this year. 😉 Also, regarding Tal – Billboard.com just presented an interview with Eagles guitarist Joe Walsh where he revealed the news about a coming blues album, featuring Tal Wilkenfeld on the bass, Jim Keltner on the drums, Dr. John, Robert Randolph, Keb Mo, Mike Finnegan and a few other bunch of musicians ;). Sounds like a real supergroup to me! Not to mention some of the other guys that we've heard is involved but not mentioned in the interview ;). According to Billboard, 12 songs are recorded and about 12 more will be before they pick the best ones for an album. Got to be a good one!
See you all tomorrow. Now, need some rest!
More about EBS at www.ebssweden.com