It's exciting to be here again together with all our friends and competitors in the music industry. Previously, these blogs has been very hands on what's happening at the show – this year, we will focus a little more in detail on different groups of EBS products, to give you all a nice overview, and hopefully some new insights about what EBS is all about. In addition to the reports from the floor – of course!
On before hand, we've promised some new gear to be presented at the show! We will start DAY 1 with introducing one of these – the EBS Session 30 bass combo!
EBS Session 30 is an addition to our very popular Session combo family – a line that focus on providing great sound and value to everyone. With the first Session 60, and the newly added 120 tiltback models, we have covered the weekend warriors and serious students (or pro's) looking for a great amp for practice and home recording needs. Now, with Session 30, we provide a glimpse of the EBS sound to the aspiring beginner and youth that need a perfect bedroom amp to start building their chops and dreams on their journey to become a real pro. You might not think much of a bass combo amp at 30 W with an 8″ speaker, but this is a mean little beast – offering great projection and tone shaping possibilities that makes it stand out in the competition! It really hold together the tone nicely, offering a tight and defined bass sound that makes playing fun and for real! Same as with the other combos in the line, the amp is based on the Classic 450 head, but scaled down to fit for the purpose. The amp has controls for input Gain, Bass, Treble and Volume, and fitted with a professional XLR-output as well as headphone output, for late night practicing. The EBS Session 30 will start shipping from June and cost around 189 Euro.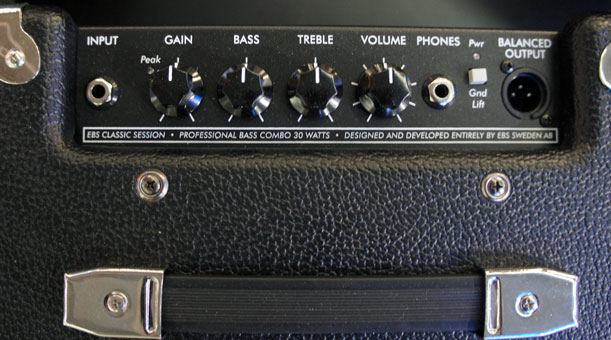 The Session combos are part of EBS mid-prized Classic range, that offers great gear at less cost than our Premium gear (that we will focus on more tomorrow). All gear in EBS ClassicLine is assembled in Asia, use a little less expensive materials, and the products are stripped off of some of that extra features that is useful but maybe not crucial for the common musician. That's what makes a lower price possible, since EBS philosophy is to never compromise on the sound – so make no mistake, these are professional sounding equipment no matter the price tag!
The ClassicLine offers a different look that may appeal more to musicians looking for something that fit in with a vintage stage backline than EBS other equipment. Soundwise the ClassicLine in general lean more to the classic rock  and old-school funk sound, with great projection and definition all over the fretboard, but with a nice and round bottom.
The heads offered are the EBS Classic 450 – a 100% solid state head with the heart of a tube amp. Without need to worrying about tubes, this is the ultimate tour companion that is easy to maintain and provide a great sound to fill the stage. The key features is the dual mid/frequensies controls for Low and High mid, that let you dial in just about any vintage rock sound easily, and the very musical responding Drive control, that makes this amp growl and respond to how hard you hit the strings, similar to an all tube quality head. The excellent XLR-output is another feature worth mentioning, that simply sounds amazingly great and makes the sound or studio tech's work a lot easier.
The EBS Classic T90 – on the other hand – is an all-tube head (the only one from EBS), offering classic tube tone with massive headroom. Simply beautiful tone that will get straight to the heart of any tube amp enthusiast. This is a 100 W tube amp which means you won't need a gain control to get tube distortion, just crank up the volume until the tubes pump and growls as much or as little as you like! A little extra feature on this baby is the Direct Tube Driven XLR-output, offering real tube tone through the line signal!
The new and already awarded EBS Reidmar lightweight head, is a cross-over between EBS Premium and Classic gear, that fits just as perfect on a ClassicLine cabinet as it does on a NeoLine 410. The secret behind the success is the magnificent analog preamp in combination with the class D power amp, and the use of soft-clip technology instead of a limiter to prevent the power amp from clipping. This offers greater dynamics and headroom that makes this little amp at 250 W RMS (470 W Dynamic Output) fully comparable with many amps rated twice as powerful – at a very competitive price!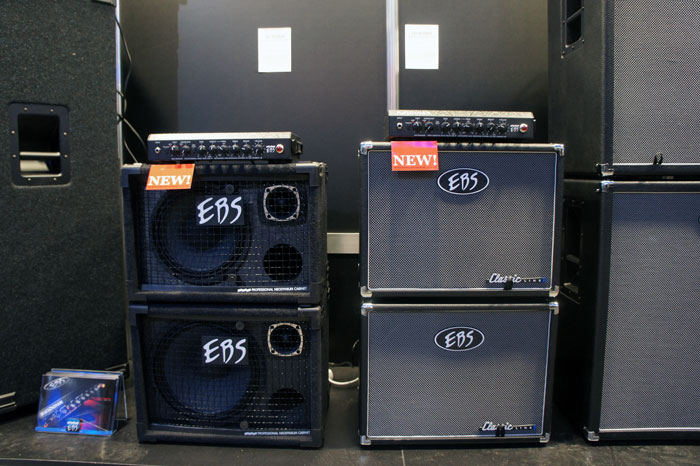 The choices of cabinets in EBS ClassicLine range from the mighty 8×10″ cab to the full size 4×10″ and 2×12″ models and the latest added 1×10″ and 1×12″ mini cabs.
All cabinets are equipped with a tweeter and using conventional speakers specially made with EBS specifications. The larger models comes with a padded cover, are all 4 ohm cabinets and has a control for the tweeter on the back. The mini cabinets are 8 ohm and has an on/off switch to control the tweeter. All cabinets are ported to provide great bottom and a powerful tone. The boxes are made of multi-laminated plywood covered with vinyl coating.
EBS Classic Line gear has been on tour with Danko Jones, Morrissey, Bruno Mars, The Sounds, Kid Rock, Katatonia, Tiamat and many many more.
We had a great time at the booth today. Lot's of people checking out the gear, great press coverage and some great musicians visiting, including guitar master John McLaughlin!
The evening ended with a little party at our friends at Marleux basses, and moved on to the Agora Sage for the International Reception offering food and Bobby Kimball with friends.
We will be back tomorrow to present another new product from EBS!
See below some more pictures from the first day!
/The EBS Team
[slideshow]