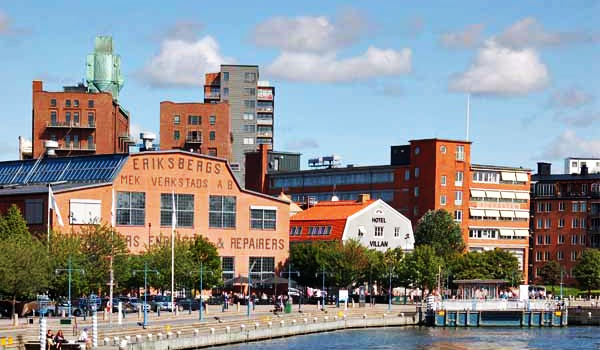 Eriksbergshallen, beautifully situated at the dock of Eriksberg in Gothenburg, was the site for last weekends Fuzz Guitar Show. Here's a little summary of the event.
Packed at the fair!
Not only the EBS car, as seen in the picture, but also the show floor at Eriksbergshallen was packed. Lot's of excited visitors, and a great vibe among both visitors and exhibitors. EBS showed the latest from our product range and we had a great time with visitors mostly from the western and southern parts of Sweden.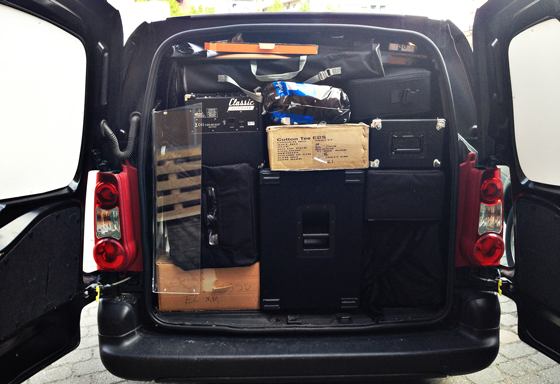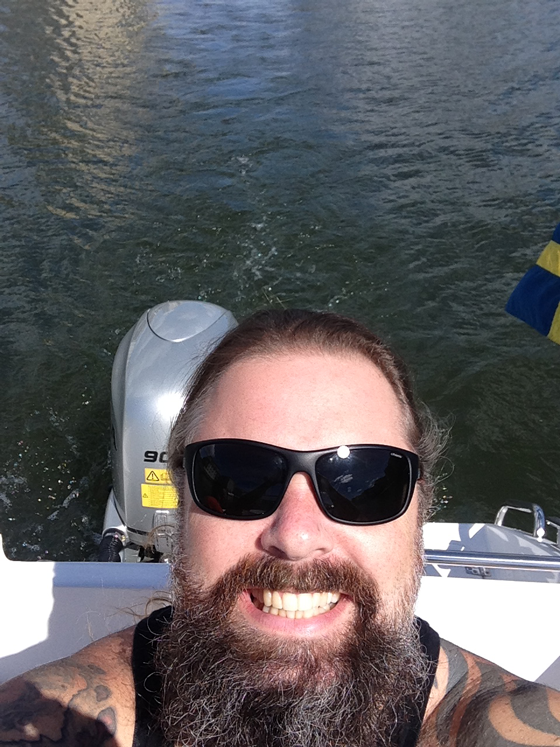 Peter Iwers of In Flames
We had EBS Artist Peter Iwers at the booth on Saturday for a signing/meet-and-greet. Since Gothenburg is the hometown for In Flames, Peter arrived in style by boat from his home. The band is taking summer off waiting for their new album to be released in September, when they hit the road again. Later on the night, we had the privilege to eat at "2112" – a restaurant run by Peter and his In Flames bandmate Björn Gelotte. Highly recommended for gourmet burger's and great beer from all over the world!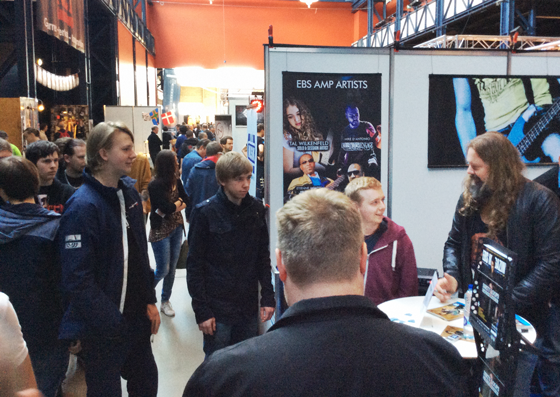 Dirty Loops present – but not in person
While EBS Artist Henrik Linder and the rest of the guys of Dirty Loops were in Tokyo celebrating 35'000 (!) copies sold of their debut album 'Loopified' on its first week since the release in Japan, it accidently happened that within a few square meters at the Fuzz Guitar Show, three companies that deliver gear for the band were present! EBS (Henrik's amps & cabinets), Mattisson basses (Henrik's basses) and Ehrlund Microphones (used by the drummer live and in the studio). We are all happy for the guy's and yet it is only the beginning! Check them out at www.dirty-loops.com
Playing at the booth
EBS Artist Bertil 'Berra' Holmgren came by the booth and played on Sunday. Sometimes joined by Anders Mattisson, and often one of Mattisson's great bass guitars. Always a joy to see and hear great bass player's play! Here's some with Berra for you, with the new EBS Classic 500 and ClassicLine 210 cabinet:
[youtube:http://youtu.be/ieT1TE2ktoc]
And the winners are…
We had a little competition at the show, and here are the winners!
1st price – EBS pedal of choice: Joachim Nilsson
2nd price – EBS set of strings: Jonathan Stoltz
3rd – 5th price – EBS T-shirt, cap or beanie:
Fredrik Edling, Robert Mattsson & Albin Esping
(Winners will be notified by email)
To receive continuous updates from EBS, sign up for the newsletter at:
www.ebssweden.com/content/newsletter.php
If you read this blog post in WordPress, find more about EBS at:
www.ebssweden.com