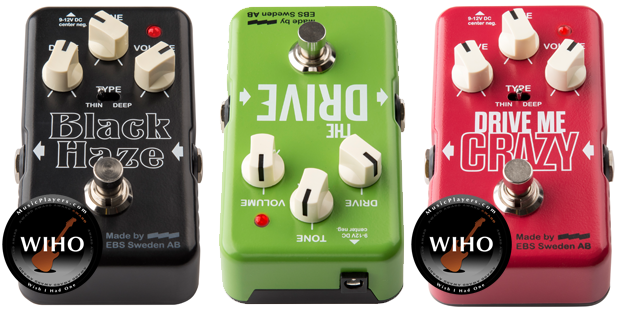 Musicplayers.com took the EBS Black Haze, The Drive and Drive Me Crazy to the test bench with both guitar and bass recently. While they all scored well (between 3.5 and 3.7 out of 4.0), Black Haze and Drive Me Crazy both stand out to receive their WIHO Awards (WIHO=Wish I Had One). 
Musicplayers.com is not the only publication that have tested the pedals recently. Reviews are currently found in the latest issues of Bass Quarterly (Germany), Musikermagasinet (Sweden), De Bassist (Benelux), DIGIRECO (Japan) and www.accordo.it (Italy) and in the next issue of Grand Gtrs (Germany), to mention a few… Pick any of these up to read the reviews.
See the entire review by MusicPlayers.com here.
The pedals are available through various stores in Europe and Japan, and currently through www.8thstreet.com in the US (with more options to follow shortly).