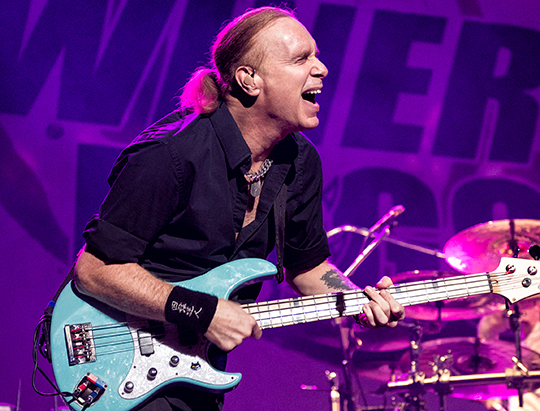 If you ever had the chance to spend some time with Billy Sheehan, it's possible you have noticed one of his passions besides music – namely healthy, locally produced and sustainable food. Maybe that's what keeps him going with an energy level most of us only wish we had! Several new and coming releases from Billy are in the pipeline…
Earlier this summer, Billy put out a brand new record called "Defying Gravity" with Mr.Big, the highly successful band he co-founded already in 1988. To support the release, they went on a full US tour during the summer and right now they are touring South America, with dates in Asia and Europe announced throughout the fall.
Just recently, a live DVD with the acclaimed trio the Winery Dogs, featuring Billy with drummer Mike Portnoy and guitarist/lead singer Richie Kotzen, came out. The "DOG YEARS and LIVE IN SANTIAGO" entered at #2 on the music DVD charts in USA, and captures the fantastic live performance of the band from their latest tour as well as exclusive footage from the band's career.
Perhaps the most jaw-dropping news for this fall though, is the announcement of a brand new super group called Sons of Apollo. The band consists of Billy Sheehan, former Dream Theater members Mike Portnoy and Derek Sherinian, former Guns N Roses guitarist Bumblefoot and vocalist Jeff Scott Soto, known from Yngwie Malmsteen, Talisman, Journey and more. Sons of Apollo just premiered their first single "Signs of the Time" from the coming up album "Psychotic Symphony", which promises epic progressive metal and hard rock of the finest brand. The debut album is due to release in October and available for pre-orders now on most online music retailers.
Yet another new band have premiered tracks from a coming up release and announced shows, namely The Fell. For fans of Billy Sheehan, this really shows a new side of Billy's musicianship, with a more song oriented contemporary rock style.
But that's not all, Billy also re-united with his old band Talas for a special event recently, which was the first show they did together in many years. At this point, we have no further info if any more Talas shows or new recordings are planned.
Great musicians have no boundaries, whether it is the technical challenging epic compositions of Sons Of Apollo, the contemporary rock of The Fell that calls for supportive rock solid bass lines, or Mr.Big and Talas's music that is marinated with Billy's significant trademark bass playing, Billy Sheehan handle it all – as the true legend he is!
See the videos of Sons Of Apollo and The Fell's debut songs below, as well as a rig rundown from this summer's Mr.Big tour (Billy's rundown starts at 16:48) and visit www.billysheehan.com for even more on Billy Sheehan.
Photo by Linda Wake-Garza



Check out Billy Sheehan's Signature pedals with EBS here:
The EBS Billy Sheehan Signature Drive Deluxe
The EBS Billy Sheehan Signature Drive