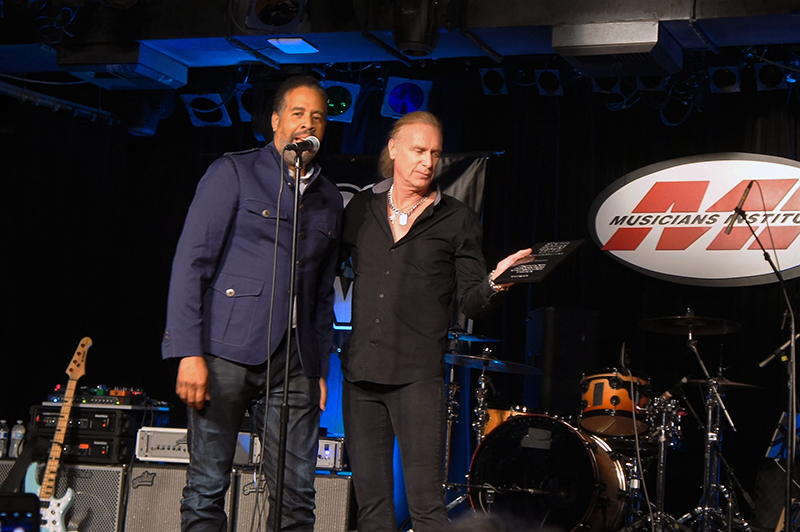 The essence of Bass Player Live is all about inspire and getting inspired. Bass player's on all levels getting together for a weekend to exchange experiences and learn from each other. Some of the greatest bass player's alive giving clinics. Musical equipment makers get to meet with customers, dealers, artists and competitors to exchange ideas and be pushed to continue develop musical equipment with excellence.
A couple great examples from this weekend was when Billy Sheehan revealed at his Sunday clinic that he had learnt a lot from his fans about what is possible to do with his own gear, especially how to use the loops on his EBS signature pedals in creative ways.
Another one was when we received the comments from several visitors trying our gear at the booth, that the equipment responded to their playing in a way that made them come up with new musical ideas on the fly – isn't that really the best verdict you can get as a maker of musical equipment?
At the EBS booth, we presented a great range of amps, all pedals, as well as the new Magni combos, based on the Reidmar amplifier. Since we had our own room, shared only by the brands carried by our US distributor, Musical Distributors Group, everyone could have a go on any of the rigs or pedals as loud as they wanted for the full EBS experience!
At the center of this event is also the celebration of some of the greatest musicians that has ever played the bass. Each year Bass Player Magazine recognizes at least a couple bass players that have contributed to the music history in an outstanding way. Over the years it has built a "Hall of Fame" of bass players that have received a Lifetime Achievement Award. This year, the time had come for two EBS pedal artists to join this exclusive group of players – Billy Sheehan and George Porter Jr. that both received an Lifetime Achievement Award, along with Tim Bogart (who could not be there in person to receive it, unfortunately).
The awards where given at the annual All-Star Concert on Saturday night. Mr. Randy Jackson presented the award to George Porter Jr. who then performed with his trio and special guests Tal Wilkenfeld and Jerry Jemmott, and laid down some funky New Orleans grooves for a full hour of music from his career. His set incorporated the use of an EBS BassIQ, UniChorus and OctaBass pedals.
The Award to Billy Sheehan was presented by none other than Mr. Stanley Clarke. So the two bass players ever honored with a Signature EBS product where on the same stage together!  Billy then brought up his Winery Dog's companion Richie Kotzen on guitar and vocals, along with drummer Mike Bennett for a few songs, then changing the line-up to feature Korn drummer Ray Luzier, guitarist Tommy Baldwin along with fellow bass players Hadrien Ferraud, Gerald Veasley, Sekou Bunch, Armand Sabal-Lecco, Rex Brown, Steve Bailey and Brian Bromberg, while Dug Pinnick handle the vocals.
All together an amazing weekend in Los Angeles, and we recommend anyone to grab every opportunity to take part of Bass Player Live next time!
We would like to thank Jack Thompson and the Musical Distributors Group team, Centerstaging for letting us use a nice Jazz bass, Zon Guitars for letting us use more nice basses, all the visitors we got to meet, and of course the whole team at SIR Studios and Bass Player Magazine!
We are also honored to work with great artists like Billy Sheehan and George Porter Jr. and would like to congratulate them to their well deserved Life Time Achievement Awards!
[foogallery id="4209″]