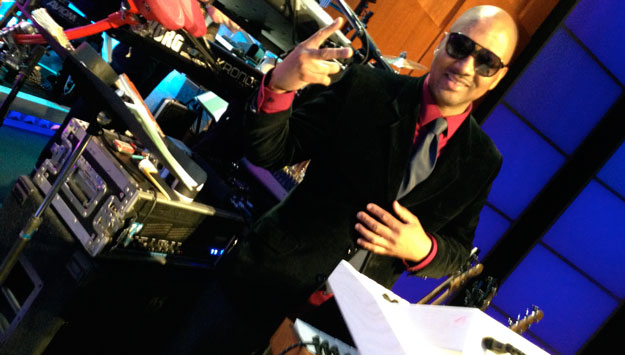 Alex Al has been a first call studio and session bass player in Los Angeles for a long time. You've most likely heard him play – without even know it – with artists like Christina Aguilera, Ricky Martin, Kirk Franklin, Stevie Wonder or Paul Simon. For many though, he was relatively unknown until he got hand picked by Michael Jackson to do the 'This Is It tour'. The tour never happened due to Michaels tragic passing, but the preparations ended up in the blockbuster documentary This Is It, where Alex Al play the bass and keyboard bass.
After that, Alex was in the George Lopez Talkshow house band and since the fall he play a major part in the completely insane house band of the Arsenio Hall Show. The collective experience of the members of the band include a big chunk of modern music history! Parallell with his steady gig, he continue to work hard in the top studios around the LA area.
The days before NAMM Show, we had the honor to visit and participate in a recording of the Arsenio Hall Show, on the Martin Luther King Memorial Day.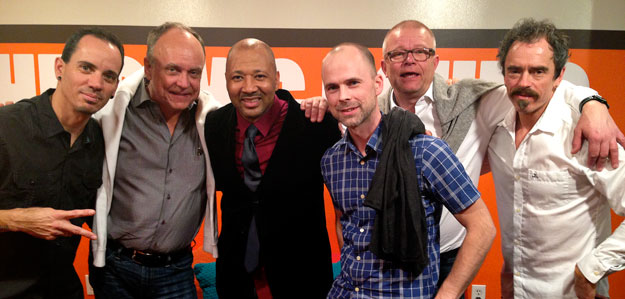 Alex Al and EBS goes way back in time – a friendship that has developed over the years with mutual respect for each others professional work. Alex being the ultimate session bass player, EBS offering the tools to get the ultimate sound.
The rig Alex use at the show, contains of an EBS TD650 or 660 amp powering two EBS NeoLine 410 cabinets. For the wide range of music the band has to cover, he also uses an Ampeg Classic rig. Through a little mixing console, he can choose which one to go through for the song, or even blend the two rigs together.
His pedal setup at the show includes an EBS BassIQ and a MultiDrive effect. He uses mainly his trusted creamy white Fender bass, but picks other basses depending on what kind of vibe the song calls for. Alex also play keyboard bass on the show.
Here's a great Youtube video of the band backing up Johnny Gill at a show in the fall of 2013 – with Alex on both keyboard bass and bass guitar:
[youtube:http://youtu.be/bgX45dZQOKU]
And a little clip from NAMM Show, where Alex have some fun with the new EBS Classic 500 and ValveDrive DI:
[youtube:http://youtu.be/Hc4VmTlwdp8]