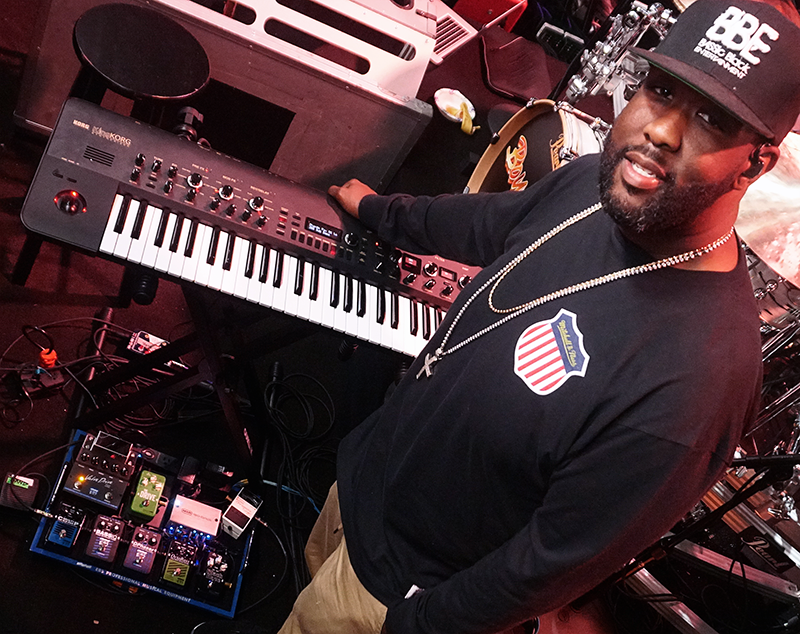 Adam Blackstone is a first call bass player and has been the Musical Director for such artists as Rihanna, Janet Jackson, Alicia Keys, Maroon 5, Eminem and most recently Justin Timberlake on his 20/20 tour.  Cherished by these class acts as one of the best in business, he's landed many honorable TV gigs as well, including the Oscars, NBC's "The Voice", the Grammy Awards and many BET, VH1 and MTV specials.
When he got the call to do the new Boy Band TV show on the ABC channel, and with all the traveling that comes with being such a sought after musician, he turned to EBS – his trusted pedal sponsor for many years – to put together a couple pedal boards that have to cover a wide palette of sounds, while being portable and compact to travel with.
We listened to Adam's request and suggested a selection of pedals that we thought best suited for the job. We sent them along with the EBS CarryOn pedal board system for a travel friendly and sturdy light-weight solution along with EBS PCF Deluxe flat patch cables to hook up the pedal board with.
After premiering the new board as the house bassist/MD for the BET Award's show, and then using it for the ABC Boy Band show where Adam is the bass and keyboard bass player, Musical Director and Musical Supervisor, he got back to us with the following statement:
"My pedals and pedal board are world class and help me achieve such a great sound on my new TV show ABC BOY BAND!"
The EBS pedals that Adam uses on the show are the MultiComp SE, OctaBass SE, BassIQ, DPhaser, ValveDrive DI, Black Haze and The Drive, along with EBS PCF Deluxe cables all mounted on the EBS CarryOn pedal board. 
For more on Adam Blackstone, visit adamblackstone.com