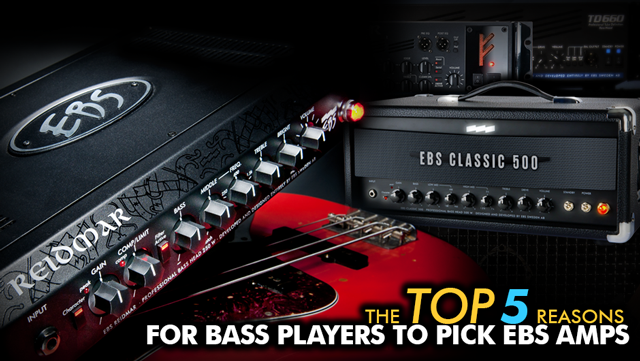 Here are the Top 5 reasons for You to consider EBS amps as the amp of your choice!
The sound always comes first.
EBS philosophy is that every instrument and musician has their own personality – a soul. An amp should be sensitive to your soul and not erase the characteristics of it. In other words, transparent and natural sounding. That's the foundation for a good sounding amp and the hallmark of any EBS amp. When artists choose to play EBS – they choose it because they like the way they sound through it – because it sound's like themselves.
Reliability comes next.
Equipment for professional use must be reliable. We may not be on the front of the barricades of technological land-winnings. Instead we refine and take proven technology to new levels to meet your demands. That formula has helped us produce reliable equipment and keep the number of service matters and warranty issues down to extremely low figures. Reports from our artists of EBS amps that has kept delivering flawlessly through 1000+ heavy-metal gigs and feedback from major backline rental companies' makes us confident to say EBS is trustworthy gear!
EBS amps are the real deal – no bull!
EBS amps are the real deal – there's not a single amplifier model from EBS that has not been used on a major tour! From the 'flagship' Fafner II to the lightweight Reidmar to the Classic 500 – no exception. We make tools (not toys) to play with!
Based on 30 years of experience.
Already from the very beginning EBS Professional Bass Equipment was determined to make gear for the 'pros'. EBS first ever product – the EBS-1 studio preamp came out in 1988. The first three customers were Flea from Red Hot Chili Peppers, Billy Talbot from Neil Young's band and Jimmy Earl with Chick Corea. Ever since, EBS has continued to develop amplifiers for bass at their headquarters in Stockholm, the Capital of Sweden.
6 distinct models to choose from – to meet your needs and size of wallet.
EBS amps are currently available in 6 different models. The three 'premium' rack mounted heads – EBS Fafner II, TD660 and HD360 – are entirely Made in Sweden and especially suited for the toughest touring conditions. The EBS Classic 500 (solid state) – offer the EBS sound in an elegant vintage outfit. Finally we have the EBS Reidmar 500 and 750 lightweight amplifiers – named after a mean dwarf in Norse mythology. The Reidmar is EBS awarded lightweight bass amp design – known for it's solid tone, quick response and large headroom at a price that fits most wallets. The Classic and the Reidmar heads are assembled in Asia but Designed & Developed in Sweden.
EBS amplifiers are available in most countries, and through most of the major online shops for musical equipment. If you have trouble to find them, contact EBS for help.
EBS Professional Bass Equipment – Great Tools To Play With!
Read also…
The Top 5 Reasons to choose EBS pedals!