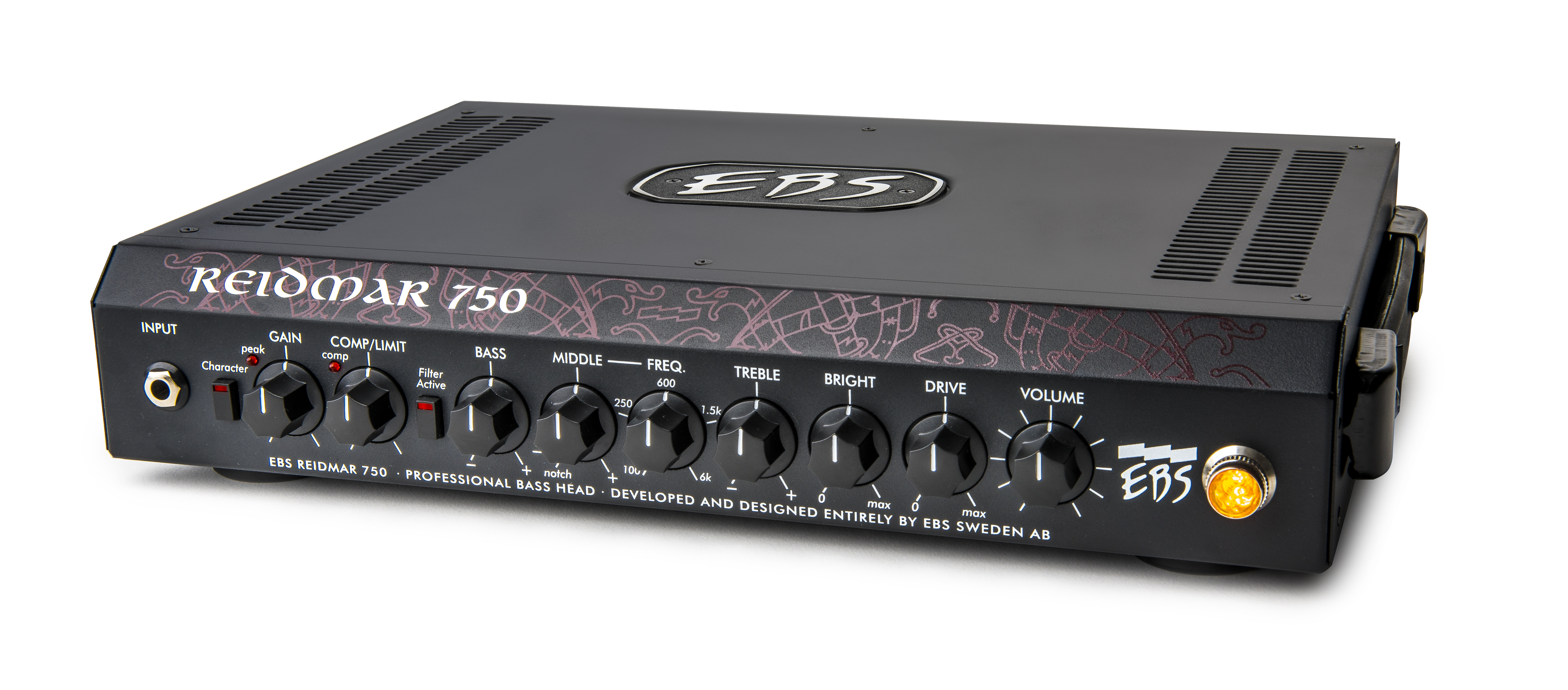 General
Specs
 Demos & Samples 
Downloads 
Reviews
Photos
General
THE EBS REIDMAR 750 IS BASED ON THE AWARD WINNING DESIGN OF THE REIDMAR AMPLIFIER, WITH SOME ADDED FEATURES. THE 'BOUTIQUE' AMP TONAL QUALITIES PAIRED WITH A POWERFUL 750 W AMP MAKES THIS A SERIOUS AND PORTABLE CHOICE FOR ANY MAJOR STAGE GIG.
---
A Natural beast. Due to advanced soft-clip technology, the Reidmar amps does not suffer any loss of definition in the low register when the volume is turned up. It does not use a present automatic limiter that kicks in at a certain point and levels out the lows like many other class-D amps do. The Reidmar amps simply takes maximum advantage of the power offered.
The extremely powerful Reidmar 750 is a real beast that need a matching cabinet to keep up with it's capabilities. This is the light-weight amp for the big stages, easily driving a 4 ohm 410 or 810 cabinet.
The Interface. If you are familiar with EBS bass amps you will feel at home with the Reidmar 750. The renowned built-in compressor and the 4-band EQ-section are really intuitive and feature the characteristic Bright and Notch filters. 
The Reidmar 750 is equipped with a Drive control to add just the right amount of harmonics to make your bass come alive, or if you prefer, make it just as dirty as you prefer.
The preamp is analog, and similar to the preamp on the HD360 and TD660 heads.
The Reidmar 750 also features an Effects loop (send and return), Balanced XLR-out for live and studio use (with pre/post EQ switch and Ground Lift), Line out, Headphones out and Speakon speaker output. A couple new features on the back are the Mini-tele input for adding recorded music to play along with when practicing, and the Remote Control Connections to add a footswitch, such as the EBS RM-4, to switch on and off Character Filter and Drive, bypass the EQ or Mute the amp.
The amp is equipped with a D-class power amp providing 750 W @ 4 ohms load. Weight is 3.7 kg (8.2 lbs).
Be careful. The EBS Reidmar 750 is extremely powerful. Therefor we recommend using it with a larger 4 ohm cabinet, such as a 410 or even an 810 cabinet, if preferred.
CAUTION! If you still use it with smaller cabinets, make sure to be careful with the output volume to avoid blowing up the speakers.
With two amps together, connected through the Effects loop (Send from one to Return on the other), you can drive two big 4 ohm cabinets, getting a separate volume control for each cabinet while using the EQ from the one you plug in to. This may not be necessary to all, but it is still nice to imagine the opportunity of driving a massive 2x 810 dream rig on stage. ;-)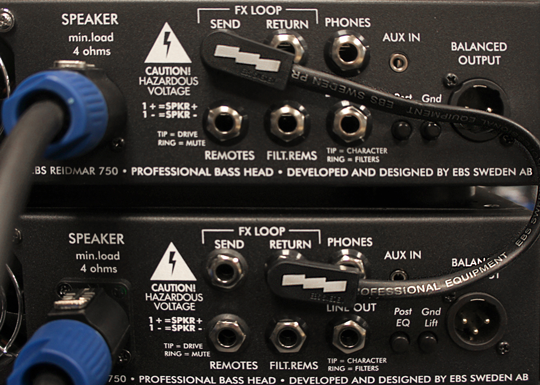 Specs
EBS Reidmar 750
Input Impedance 1 Mohms / 100 pF
Gain Range -00 - +30 dB
Character Filter Shelving, High/Low Pass,  
+7 dB @ 40 Hz, -2 dB @ 800 Hz,+3 dB @ 10 kHz
Tone Controls,
Bass Shelving +/-18 dB @ 60 Hz
Mid Bandpass Filter 100 – 6000 Hz +/- 12-15 dB
Treble Shelving +/-18 dB @ 6 kHz
Bright Shelving +15/-0 dB @ 10 kHz
Drive min/max 0/34 dB
Balanced Output   -10 dBv, Pre/Post EQ, GND Lift
Remotes Output Remote Jack RING = Mute / TIP = Drive
Filter Jack RING = Filter Mode / TIP = Character
Output Power   700 W RMS @ 4 ohms load (350 W RMS @ 8 ohms)
Dimensions (WxDxH)   15.2 x 10.4 x 3.0" (38.5 x 26.5 x 7.5 cm)
Weight   3.7 kg (8.2 lbs.)
 Demos & Samples 
Samples below created by re-amping a dry, unprocessed signal through EBS Reidmar 750, using the amps built-in XLR-output (post EQ) blended with a miked EBS NeoLine 210 cabinet (using a Sennheiser E602 II mic), recorded straight to Logic, with no further processing. Reference files used for the samples at the bottom of the list below.
Reviews
Bass Player Magazine, Nov 2016
"An excellent addition to the lightweight amp marketplace, the Reidmar delivers EBS signature sound in an affordable and portable package."
Read the whole review here:
http://www.bassplayer.com/amps/1166/review-ebs-reidmar-750-head/60503
---
Video Review from iGuitar Magazine, UK
---
EBS REIDMAR 750, FIRST IMPRESSIONS
Like everything made by Swedish amp, speaker and pedal manufacturer EBS, this amp gives the impression of absolute solidity in every sense of the word. Everything from the feel of the front controls to the look of the power indicator light gives an impression of industrial quality and durability.
Before I even get to the sound, one of my absolute favorite features of this amp is its flexibility. It is a great, lightweight and small practice amp with an 8th inch input jack for play-along purposes and a heavy-duty headphone jack. The Reidmar 750 is also a world-class touring amp with a voltage switch for international travel and lots of power to spare.
The sound of the Reidmar 750 is tight and modern in a way that will please any fan of EBS' world-famous HD 360 head. With the character switch engaged I am also able to dial in mid-scooped tones for both rock pick playing or a slap tone that gets as close to that classic Marcus Miller tone as possible. This is without even really touching the filer section that offers both the classic EBS "bright" control and a selectable mid control. When I engage the Filter section and kick in some extra low mids to revive my passive older basses this EBS amp really shines.
In a world where most Class D bass heads are so worried about being tiny and light weight that they forget to be road worthy, the EBS Reidmar 750 stands out from the crowd by feeling and sounding like a real amplifier that can rock the house and take a beating on tour.
Victor Brodén
Nashville session and touring pro
Bass for TV's "American Supergroup"
Bass columnist, Premier Guitar Magazine