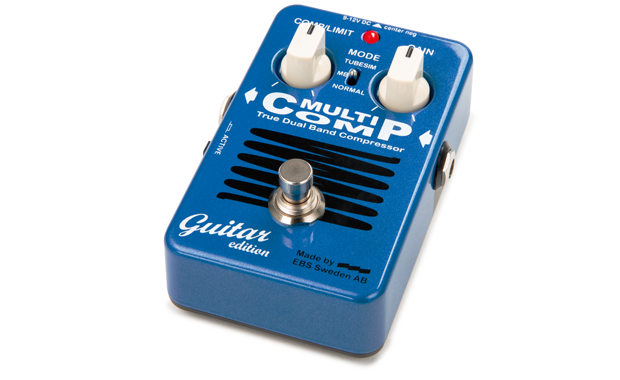 "That multi-band facility, rare in a pedal, could make this your go-to compressor, 9/10".

- Guitarist Magazine, UK
General
Specs
 Demos & Samples 
Downloads 
Reviews
Photos
General
THE EBS MULTICOMP GUITAR EDITION IS A HIGH PERFORMANCE, ANALOG COMPRESSOR PEDAL, WITH A CHOICE BETWEEN SOLID STATE, TUBE SIMULATION AND MULTI-BAND COMPRESSION.
---
Make Your Sound Even Better. The MultiComp Guitar Edition can make a good sounding guitar sound even better. Once you've tried it, you'll never want to play without it! The EBS MultiComp Guitar Edition is optimized for use with guitar, and strikes the perfect balance of being super user friendly and offering super sonic qualities.
Less is more. The MultiComp may be the easiest compressor around to dial in. Since it is so smooth and well though out, all you need is to set the level of Comp/Limit with one knob, Gain with another, and then choose the type or mode of compression betweenTubeism, Multi Band (MB) and Normal. Done! For those that need more, there is an Active/Passive switch on the side as well as an internal trim pot for the Threshold located under the hood.
To give you the most comprehensive way possible today to try these pedals online, check out our new player below from TonePedia.com, using authentic high definition recorded samples of the EBS Guitar Edition pedals, with the instrument and amp shown below.
Instructions:
Click on the pedal you want to try
Change the parameters below the pedal field to change the settings on the pedal you are listening to (the controls represent the controls on the selected pedal).
In the same way, change the pickup setting on the guitar below the guitar field.
For variation in style, choose a sample in the drop-down menu below the pedal control field. 
Some of the variations adds the possibility to combine the selected effect with distortion/overdrive. On these samples, a button to engage distortion appears in the pedal control field.
Do you want to leave feedback on your experience with this tool? Click here
About the Red Label Pedals. The MultiComp Guitar Edition is one of the three first launched pedals in EBS new Red Label Pedals for guitar, along with the EBS DynaVerb Guitar Edition and Red Twister Guitar Edition. They all comes with the heritage from EBS famed Black Label Pedals for bass, that have been used by world-famous guitarists for years. With the Red Label Pedals, all the details has been adjusted for optimal performance with guitar, with the input from some of the most busy Swedish session guitarists and the staff from the famous TGT11.se pedal specialists store in Stockholm, Sweden.
Specs
Nominal Input Level - 10 or - 4 dBv

Input Impedance 700 kohms

Bypass Bandwidth +0 / -3 dB 20 - 20k Hz

Gain Range 0 - 15 dB

Compressor Ratio min / max 1:1 - 5:1

Threshold -25 - +6 dB adjustable inside

Attack Time (80%) <7 ms

Release Time (80%) typ. 70 ms

Dimensions (L x W x H) 2.8 x 4.5 x 1.4" (70 x 115 x 35 mm)

Weight 400g (0.88 lb.)

Bypass True Bypass

Power Requirements 9-12 V DC Regulated, 35 mA max*


* EBS Recommend the use of the EBS AD-9+ DC adapter.
The adapter can supply up to twenty pedals at the same time.
 Demos & Samples 
David Henriksson demoing the EBS MultiComp GE
Timo Somers from Delain/Vengeance showing the EBS Red Label Pedals in this video:
Reviews
REVIEW from GUITARIST MAGAZINE, UK, September issue 2015
"Most interesting, however, is the MB mode where the bass and treble compressors work independently so neither end of the spectrum unnaturally affects the other. That multi-band facility, rare in a pedal, could make this your go-to compressor, 9/10" - Guitarist Choice Award.



REVIEW from iGuitar Magazine, UK, issue 36 - 2015
"This (MultiCompGE) is an impressive, easy to use, transparent compressor pedal. I like the fact it's very easy to dial in great sounds. I also liked the three way switch that gives you instant access to typical compressed sounds. Even all the way up it didn't squish the tone to a horrible unmusical amount and it sounds really good".
Watch the video part here (MultiComp starts at 2:49) :
http://edition.pagesuite-professional.co.uk/launch.aspx?eid=4ff5b8c0-6035-4edc-ba81-01ec6b929760&pnum=102




REVIEW from GUITAR & BASS MAGAZINE, UK
"As stompbox compressors go, they don't get much better than this. With a wide tonal palette and plenty of options, it could last you for an entire career".

"(The MultiComps's) TubeSim mode adds warmth to clean tones, and can really help fatten up vintage-voiced single coils for both chords and single notes…In short, this is an impressive compressor that we're confident will improve your tone - as it did ours".
The whole review available in Guitar & Bass Magazine, UK, October 2015 issue
Photos