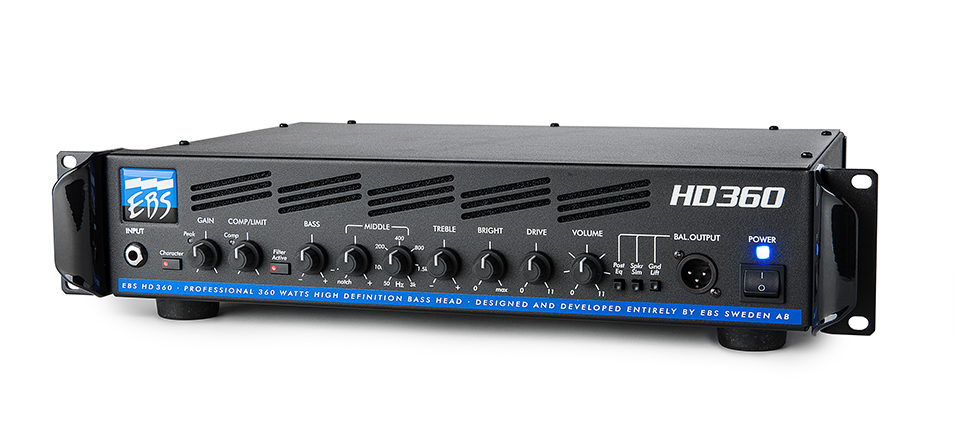 General
Specs
 Demos & Samples 
Downloads 
Reviews
Photos
General
THE EBS HD360 IS A COMPACT AND HEAVILY EQUIPPED BASS HEAD FOR THE BASS PLAYER WHO DEMANDS CLOUT AND VERSATILITY WITHOUT FUSS. TAKE FULL CONTROL OF YOUR TONE IN THE STUDIO AND ON STAGE WITH THIS EXCELLENT BASS HEAD — A FAVOURITE AMONG MANY PROFESSIONAL BASS PLAYERS!
---
This 'High Definition' bass head is completely based on Solid State technique. The HD heads have become favorites among studio session players, offering an exceptionally good and thought-out EQ that has been tuned-in carefully to cover all the frequency ranges that you need to optimize your tone. 
The basic layout of the control panel (from left to right) feature a Character filter, which is a quick fix to a modern type sound by offering a mid-scooped overall tone. The input Gain control set the signal level into the amp from your instrument. The Filter Active button activates/bypasses the EQ filters, the shelving Bass filter followed by the advanced Middle filter where you pick the frequency range you'd like to adjust with the right control and cut or boost in that range with the left control.
Don't forget the clever "Notch" function. When the Cut/Boost control is set to "Notch" you can identify and scoop out frequencies causing unwanted feedback with the Frequency control. It is very useful in rumbling venues that may pick up certain frequencies, or when you get feedback from an upright bass.
Next is the shelving Treble filter and then the unique Bright filter, which is almost like a volume control for the cabinet's tweeter. When turned up it opens up the sound and makes the tone huge and alive.
The Drive offers that extra grit that makes the amp growl as much as you want. From just a smooth boost to growling distortion.
The input jack has a special feature since, if used with a stereo cable, it offers 9V DC Phantom Power output, that can be used to power a single 9V DC EBS pedal or an active bass.
Back panel. On the back panel you'll find the Effects Loop, featuring a Mix level control that lets you blend in all effects hooked up through the loop with your sound, from zero to a hundred percent. Effect Return also offers the same Phantom Power function that you find on the Input jack at the front. There is a Tuner output, for connecting a tuner rack unit easily. You have a Line out, in case you need the power from another amp to drive a second pair of cabinets, and finally the Filter Remote Inputs to connect the RM-4 footswitch that lets you switch on and off Character, Filter Bypass, Drive and Mute from front of stage.
Specs
EBS HD360
Input Impedance 2 Mohms
Frequency Response 20 - 20.000 Hz
Maximum Compression Ratio (Compressor) 3:1
Tone Controls
Bass +/-15 dB @ 100 Hz
Middle +/- 12dB @ 50 - 3.000 Hz, Q=0.5
Treble +/- 15 dB @ 4 kHz
Bright -0/+20 dB @ 10 kHz
Drive Gain Range 0 - 30 dB
Drive Type Solid State
Speaker impedance 2 - 8 ohms
Continuous Output Power
Dynamic Output Power 360 W RMS @ 2 ohms,
Continuous Output Power 300 W RMS
Dimensions (W x D x H) 19" x 13" x 2U (48cm x 33cm x 13cm)
Weight 9 kg / 20 lbs
Reviews
Review from MusicPlayers.com 2015
"The HD360 doesn't seem like it would have enough power for a typical bass rig, where modern digital power amps routinely offer 500 Watts or more. But EBS proves here that what really matters is good amp design, as the HD360 can power multiple speakers with ground-shaking presence, clarity, and volume." - Winner of a WIHO (Wish I Had One) Award

Read the full review here: http://www.musicplayers.com/reviews/bass/2015/0715_EBShd360.php
REVIEW from Bass Guitar Magazine, October 2012
"The EBS HD350 was one of the most successful bass amp designs of the last 15 years. Introduced in 2001, it was just inherently 'right from the start, and with just a few minor tweaks it stayed in production for well over 10 years". The latest incarnation, the EBS HD360, is now available and Bass Guitar magazine have the first review.
"Two things to immediately report: firstly that this is one loud rig, with masses of headroom and a gorgeous rich, tight bottom end"."The second thing to report is the change in the EQ compared to the old HD350. You still have a huge range of tones available, but on this new amp the extra scope is really apparent"."It's hard to pin point any distinct character with this rig. Even using the powerful EQ means that your particular bass sound still clearly shines though".
"It's evolution rather than revolution here, and although the multiple upgrades are subtle, the net result is a significantly improved design. Perhaps most significant is the increase in headroom, basically meaning that the amp will push out more volume before any clipping or distortion starts affecting the sound. I for one had no complaints about the volume levels available from the old HD350, but it was great fun testing this out, and it's true: it is louder".
"...this is a great amp and a worthy successor to the fantastic HD350".The full review can be found in the October 2012 issue (Issue 83) of Bass Guitar magazine