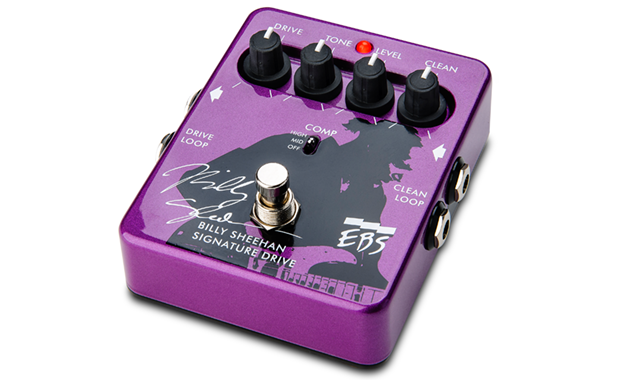 "This pedal is a distillate of several important principles in the signal chain for bass. Compression, distortion, tone-shaping and blending all together."
- Billy Sheehan
General
Specs
 Demos & Samples 
Downloads 
Reviews
Photos
General
THE BILLY SHEEHAN SIGNATURE DRIVE PEDAL IS DEVELOPED BY EBS IN CLOSE CO-OPERATION WITH BILLY HIMSELF. IT IS BASED ON THE CONCEPT OF MIXING TOGETHER A CLEAN SIGNAL WITH A DISTORTED TO BE ABLE TO PRESERVE LOW FREQUENCIES AND FIND BALANCE BETWEEN DISTORTION AND DEFINITION.
---
Built-in Compressor. The option to add compression make possible to keep the note differentiation clearly audible even at heavily distorted sounds. There are three modes for the built-in compressor, High, Mid and Off. For the Mid setting, there's an additional trim pot inside to set the ratio. There's also a trim pot to set the Threshold for the compressor (affect both settings).
Clean Loop, Drive Loop - Endless possibilities! The Billy Sheehan Signature Drive offers unlimited pre-post mix tone shaping, made possible by including a clean loop and a drive loop. It lets the user insert any other effect they wish within each loop to 'pimp' the effect into your own signature effect! For example, connect an external EQ to the Drive Loop and shape the character of the distortion any way you want. Or, turn off the built-in compressor if you prefer to use a different type of compressor and put in the Clean Loop. To use the loop function, you need an additional insert cable (a stereo 1/4" plug that split in a tip and ring female or male 1/4" mono plug).
Controls. With the new extended size box from EBS, there are controls for Drive (gain for the overdrive engine), Tone (sets the frequency scoop for the drive), Level (sets level for drive channel post Drive Loop and pre final compressor) and Clean (sets level for the clean channel, post Clean Loop and pre final compressor). The concept works similar to when you blend the two channels on the preamp of a Fafner II amp.
READ AN INTERVIEW WITH BILLY SHEEHAN ABOUT THE PEDAL >> 
Said about the EBS Billy Sheehan Signature Drive:
"After a few months of being an owner of the EBS Billy Sheehan Signature Distortion I have to say that it is the best product from EBS ever. Absolutely unbelievable! It is the first distortion pedal for bass guitar ever that actually sounds, feels and compresses like a tube amp!"
Victor Broden - Nashville session bass player, producer ans Columnist at Premier Guitar Magazine
Specs
Nominal Input Level - 8 dBv
Input Impedance 700 kohms
Gain Range Drive 20 - 40 dB
Tone Filter Range 175 - 4500 Hz Q 0.6
Nominal Loop Level -8 dB
Output Impedance Loops 2 kohms
Input Impedance Loops 47 kohms
Mix Level
Drive Channel +3 dB max
Clean Channel +6 dB max
Compressor
Ratio 5:1 (max)
Threshold -25 +6 dB
Attack Time (80%) < 10 ms
Release Time (80%) 100 ms typ
Makeup gain 0, +3, +6 dB
Output Impedance < 100 ohms
Dimensions W x H x D 3.5" x 4.5" x 1.4" (90 x 115 x 35 mm)
Weight 480g (1.07 lb.)
Type Analog Effect, Mechanical Switching
Power Requirements 9 - 12 V DC Regulated, 15 mA max
Reviews
REVIEW from Guitarist Magazine, UK, 2013
"A new kind of bass distortion that offers some of the best sounds around, with top-notch build and reliability. Guitarists should try it too!" - 'GUITARIST CHOICE' Award
Read the whole review (external link)>>
---



REVIEW from Bass Frontiers, 2013
By John Howard
"...after playing with the Signature Drive for a few days, I am really knocked out with everything you can do sonically with this pedal. This could definitely become a go to pedal for a lot of players out there."
Read the whole review (external link)>>



---
VIDEO REVIEW BY Guitar Interactive, UK
By Dan Veall
---
Review from GUITAR AND BASS MAGAZINE, UK
"With Drive,Tone and Level at 12 o'clock and Clean near your 'bypass' level, the sound is pleasantly ruffed-up by a fizzing, chocolatey fuzz that's even and well defined and feels very much like a bass sound with more of an edge".
"At more intense Drive levels you'll find a fruity, buzzsaw tone, and the contemporary heavy rock distortion here means you can have a ball hitting root/fifth shapes or widdling in the higher registers. By the way, we set Compression level at Mid for the review and didn't even notice it was there...which was a great result".
The full review can be found here: http://www.guitar-bass.net/gear/ebs-rev/
---



Review from BASS GUITAR, UK
"The quest for the ideal distorted bass tone may well be over; power, clarity and brute force in a box".
"Bass distortion has always been a frequency-sapper, but the ability to keep the clean signal to maintain a decent level of bottom end is the winning factor. The distortion itself is outstanding for an effects unit without any tubes in place, and the compression is truly the icing on the cake..."
"Quite possibly the best bass distortion pedal on the market. Top quality, strong performance, intuitive and flexible. Don't be put off by its rock connotations, many a player could benefit by adding this to their FX arsenal".
"Highly recommended, other pedal manufacturers will have to go some way to beat this. Billy and EBS have come up with the goods".
The full review was published in the August 2014 Issue (Issue 94) of Bass Guitar magazine
Photos