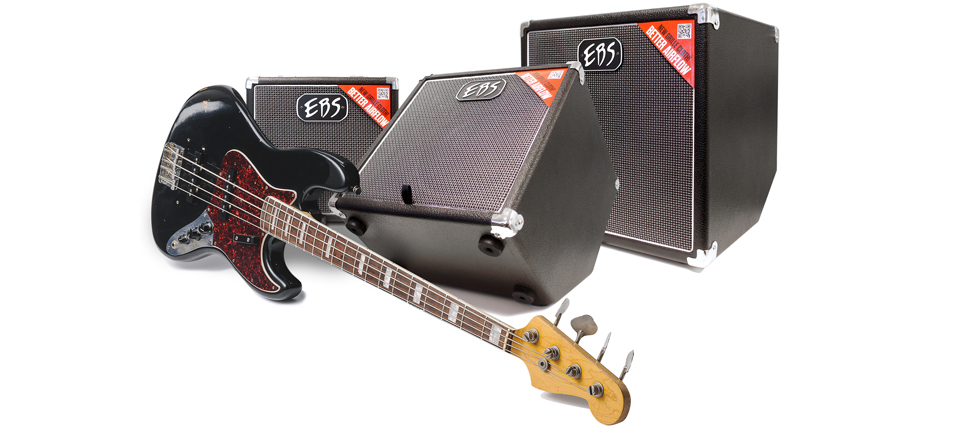 General
Specs/models 
 Demos & Samples 
Reviews
Photos
General
THE EBS SESSION COMBOS OFFER GREAT SOUND AT A GOOD PRICE – A BIT OF THE BEST OF BOTH WORLDS. THEY ARE ALL EQUIPPED WITH FEATURES THAT MAKES SENSE TO OFFER QUALITY BASS SOUND FOR PRACTICE, SMALLER GIGS, BACK STAGE WARM UP AND HOME AND STUDIO RECORDING.
---
The EBS Session 30 features an 8" speaker and an effective EQ with controls for Gain, Bass, Treble and Volume. It has a mini-tele Aux Input for an external sound source and a Headphone Output for quiet late night rehearsals at home. It is equipped with a professional quality XLR Output making home or studio recording as well as front of house connection easy! 
The EBS Session 60 features a 10" speaker and a tweeter. It offers controls for Gain, Bass, Treble and Volume. The Character and Enhance filters allow further adjustments, making it easy to find your own personal sound. The XLR Output makes it possible to use it live on a larger stage as well as in the studio. With the monitor RCA Input jacks with mix-in filter and stereo headphones out you can practice whenever you want. The Session 60 can be tilted for improved monitor sound.
The EBS Session 120 is the ultimate "weekend warrior" bass combo equipped with a 12" speaker and a tweeter. The amp provide great monitor sound on stage and in the rehearsal room. It is sporting an easy-to-dial-in, powerful EQ, and a XLR Output for professional live and studio use that extends the possibility to use it on larger stages as well. Get a full bodied, warm bass sound with great punch and bottom with  the Session 120! The EQ is similar to the Session 60 but feature a Mid control. The Session 120 was awarded BASS AMP OF THE YEAR 2014 by UK magazine Guitar & Bass. 
Not just for bass! The Session combos offers a very competitive alternative for Jazz and Acoustic Guitarists and Harmonica players looking for an amp as well. Unintentionally, it seems that especially the EBS Session 60 turn out to be 'absolutely amazing' for Jazz guitar, as well as harmonica - according to customer feedback!
Specs/models 
AVAILABLE MODELS / SPECIFICATIONS OF EBS SESSION COMBOS
EBS Session 30
Configuration 1x 8"
Frequency Response 70 - 5k Hz
Power Rating 30 W RMS
Height 24 cm / 9.5"
Width 31 cm / 12.2"
Depth 33 cm / 13"
Weight 8.6 kg / 18.9 lbs

EBS Session 60
Configuration 1x 10" + 2"
Frequency Response 60 - 18k Hz
Power Rating 60 W RMS
Height 34 cm / 13.5"
Width 38 cm / 14.8"
Depth 39.5 cm / 15.6"
Weight 16 kg / 36 lbs

EBS Session 120
Configuration 1x 12" + 2"
Frequency Response 45 - 18k Hz
Power Rating 120 W RMS
Height 40 cm / 15.8"
Width 43.5 cm / 17.1"
Depth 45.5 cm / 17.9"
Weight 21 kg / 47 lbs
 Demos & Samples 
  Dan Veall at iGuitar Magazine reviews the EBS Session 60.
---
Kitaribloggi gives the EBS Session 30 a try with various basses (recorded through the amps XLR output).
---
Reviews
Review from Bass Guitar Magazine (Session 60)
  By Nick Wells
"A well-built, affordable and versatile bass combo. Highly recommended." - 5 out of 5
---
Review from Guitarist Magazine, Session 30
By Roger Nevell
"Careful blending between the input volume and the master allows us to achieve various degrees of overdrive for a seriously rich delivery" - 4 out of 5
  Read the whole interview (external link) >>
---
Review from Guitarist Magazine, Session 60
By Roger Nevell
"It wasn't so long ago that a good-sounding bass amp with a single 10-inch speaker was nothing short of an impossibility, yet here we are." - 4,5 out of 5
  Read the whole interview (external link) >>
---
Review from Guitarist Magazine, Session 120
By Roger Nevell
"Whether using it at home, in the studio, on small gigs as backline or larger gigs as foldback, this EBS will do the job professionally and with class. A seriously versatile, user-friendly bass combo." - 4 out of 5
  Read the whole interview (external link) >>
---
Photos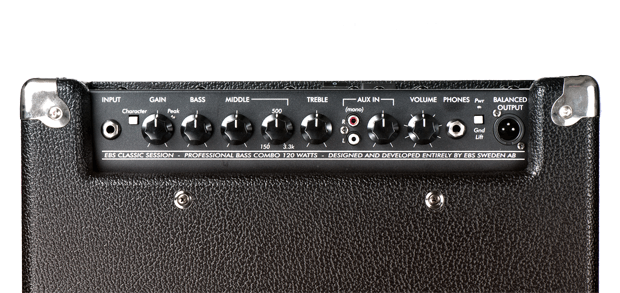 Session 120